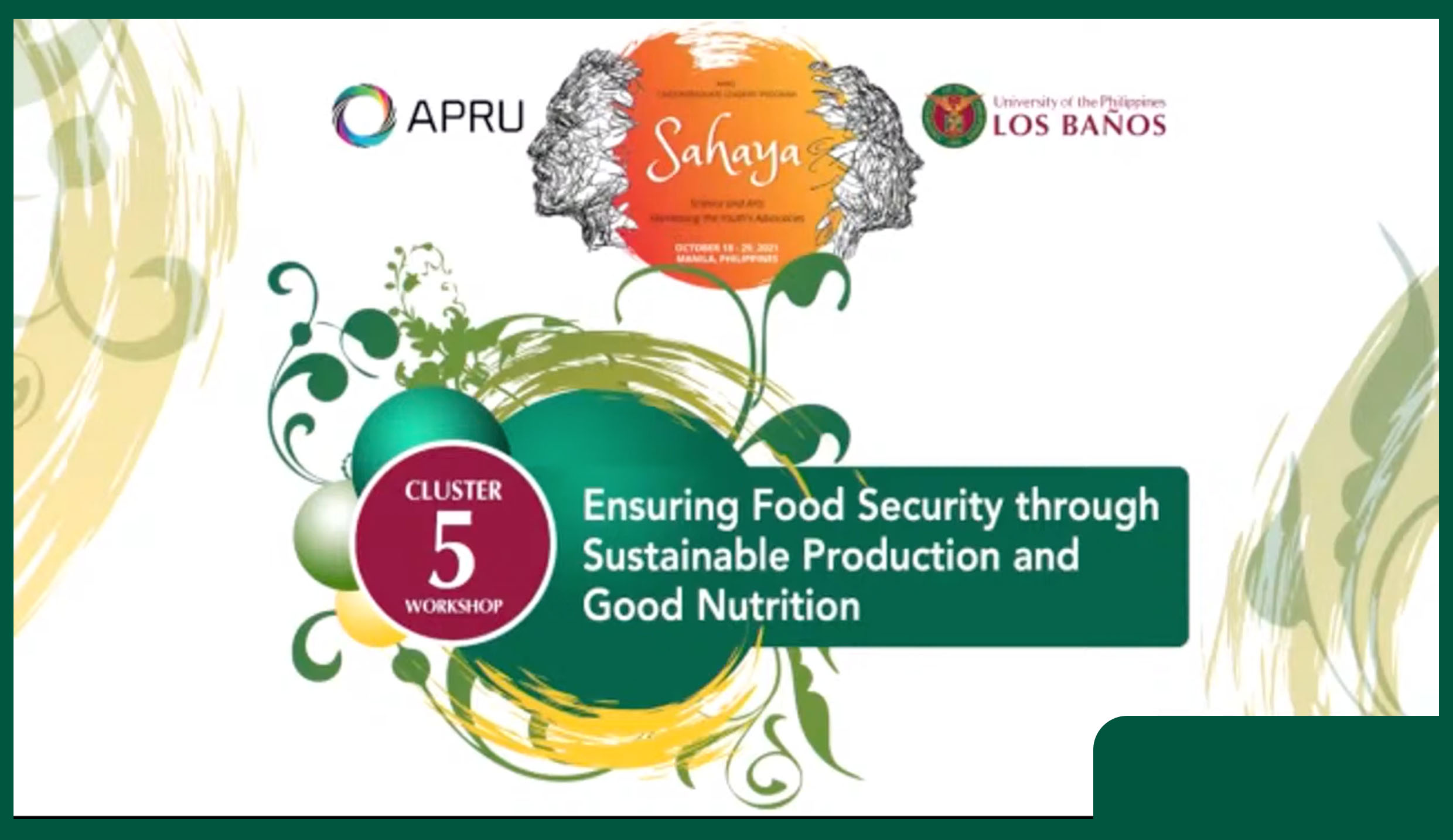 UPLB holds Day 5 of APRU workshop
UPLB organized the fifth day of the Association of Pacific Rim Universities (APRU) Undergraduate Leaders Program 2021 and held it at 8:30am on Oct 22 via video conferencing.
With the theme "Ensuring Food Security through Sustainable Production and Good Nutrition," speakers from the College of Agriculture and Food Science (CAFS), and the College of Human Ecology (CHE) discussed various topics related to agriculture, food safety, and nutrition.
Chancellor Jose V. Camacho, Jr. formally opened the 7-hour program with a speech directed to the participating APRU student leaders.
He highlighted the fact that despite numerous agricultural achievements worldwide in modern day society, hunger and malnutrition remain as one of the world's greatest challenges.
Quoting the Food and Agriculture Organization of the United Nations, Dr. Camacho said that we currently experience a global "syndemic," or synergy of pandemics, sharing common underlying drivers such as food, transport, urban design, land-use systems, as well as nutritional problems and climate change felt especially in low- and middle- income countries.
He enjoined everyone to actively participate in the APRU Workshop and challenged the student leaders to think of new ways to address food and nutrition security.
Jim Cano, a UPLB BSA alumnus and current board member of the Philippine Association of Agriculturists, delivered a speech highlighting why agriculture and food security remain to be crucial to the lifestyle of people, especially in the context of countries facing COVID-19.
Featured in this workshop were faculty members of CAFS and CHE who discussed the following topics: "Discover the Philippines: One Vegetable at a Time," "Edible Landscaping: The Artistic Technique of Crop Production," "Food Safety: Inside the Radar of the SDGs," and finally, "Nutrition."
A video of this workshop may be viewed on the Official UPLB Youtube Channel (https://www.youtube.com/watch?v=Aa9GipNvYq0 ). (Kristel Hope Villafuerte)