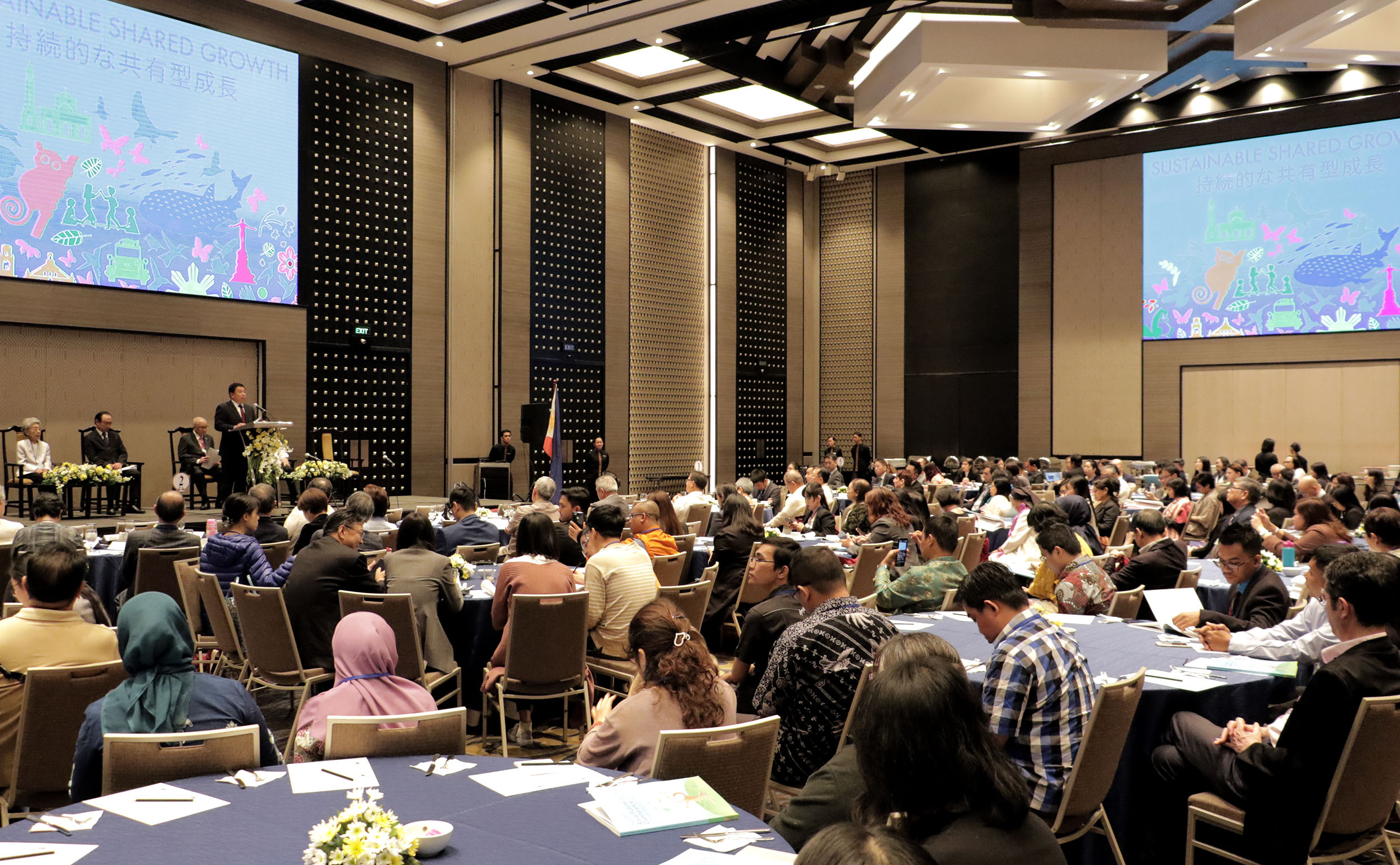 UPLB-hosted AFC 5 tackles sustainable shared growth for Asia
Scholars from different countries stepped up on the regional stage to present their insights on Asia's path forward at the 5th Asia Future Conference (AFC5), which UPLB hosted recently.
More than 300 participants presented their researches on education, innovation, peace, environment, health, and shared growth in AFC5 that had for its theme "Sustainable shared growth: our common home, our common happiness."
AFC 5 was held in the Philippines on Jan. 10-12, with the UPLB College of Public Affairs and Development (CPAf) as the host institution, at Bellevue Hotel in Alabang, Muntinlupa City and in the UPLB campus.
Its past editions were staged in Thailand, Indonesia, Japan, and Korea,
Tokyo-based civil society organization Atsumi International Scholarship Foundation (AISF) is AFC's main organizer.
According to His Excellency Jose Castillo Laurel V, ambassador of the Philippines to Japan and keynote speaker of AFC5, the growing uncertainties in Asia amid global issues require the collaboration among leading experts in Asia.
"The challenges we face today are both complicated and interrelated. These require out-of-the-box thinking and multi-disciplinary approaches," he said.
"The perspectives that engineering, medicine, management, the social sciences, and the humanities can bring to the table are essential for tackling the world's problems," HE Laurel added.
Present during the conference were UP President Danilo L. Concepcion and UPLB Chancellor Fernando C. Sanchez, Jr., who both cited the importance of collaboration in addressing the challenges of globalization and internationalization in Asia.
"Collaboration efforts such as this conference are crucial towards sustainable shared growth," noted President Concepcion. "Cooperation is the way to go."
"It is really important that as scholars and policymakers, we must work together in finding sound and sustainable solutions to Asia's enduring and emerging development challenges," Chancellor Sanchez, for his part, said.
A number of UPLB's academic leaders and scholars were featured in AFC5 discussions.
Dr. Ferdinand C. Maquito, a faculty member at CPAf and an alumnus of the AISF scholarship, gave the opening talk and noted how AFC has evolved from what was initially a discussion on shared growth and later on expanded to sustainability, and now, includes efficiency, equity, and environment.
CPAf Dean Rolando T. Bello, Dr. Jose V. Camacho, Jr., and Dr. Josefina T. Dizon co-headlined the panel discussion of AFC 5.
Dean Bello also highlighted climate change, environmental stability, and rapid technological developments as the main problems that can be addressed by convening the conference.
Dr. Camacho, dean of the Graduate School, identified the six pillars of sustainable growth, which are implementing incentives in the economy to change the behavior of business and regulate profits, creating strong institutions, creating and implementing inclusive policies, infrastructure development, innovation, and interdisciplinary collaboration.
For her part, Dr. Dizon, faculty member and former dean of CPAf, contextualized the goals of shared growth from the community development perspective and explained how the decisions formed by the global community can affect the local communities.
Joining them in the panel discussion were Arch. Michael V. Tomeldan, a faculty member from UP Diliman College of Architecture, and Dr. Peter Lee U, a faculty member from the University of Asia and the Pacific School of Economics.
Dr. Tomeldan talked about how regional centers can be enabled and empowered to achieve decentralization of development through concentration of resources, increasing connectivity among regions through communication and transport, and reducing vulnerabilities to natural hazards such as typhoons and earthquakes.
Dr. Lee U, for his part, discussed parallels between the goals of sustainable shared growth and the energy trilemma.
"Technology can be a way out," he said. "With better technology and investment in infrastructure, we could produce more. We could produce forwards and outwards so we could have more of everything with the same resources."
Gracing the conference were His Excellency Koji Haneda, Japanese ambassador to the Philippines; Junko Imanishi, managing director of AISF; and Yasushi Akashi, council member at AISF and AFC conference chair.
The conference selected 20 best papers which were awarded during the closing ceremony held at the National Arts Center in Los Baños.
AFC is held every two years and serves as a venue for AISF's global network of scholars to interact and share their knowledge.
AISF offers one-year scholarships to doctorate students studying within the Kanto area in Japan. (Jessa Jael S. Arana)