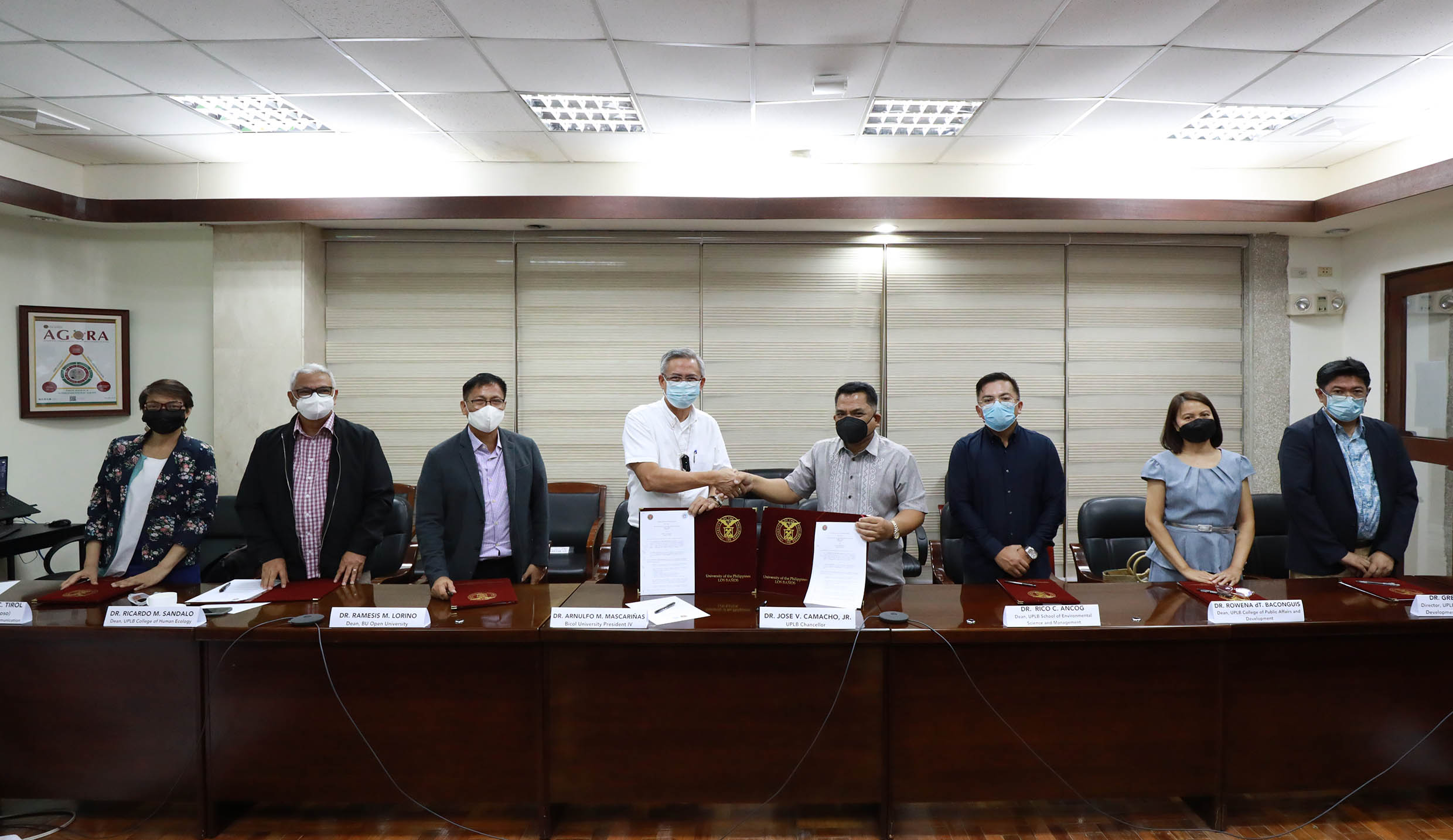 UPLB inks partnership with Bicol University
A Memorandum of Understanding (MOU) to develop academic and educational cooperation between UPLB and Bicol University (BU) was formalized on April 25 at the Executive Conference Room of the UPLB Office of the Chancellor.
Both universities will develop collaborative activities such as exchanging faculty, researchers, students, and academic information materials. They also agreed to conduct research and extension projects, lectures, symposia, and capacity-building programs.
The event was led by the Office for Institutional Development in Higher Education (OIDHE), the unit that cultivates and maintains UPLB's partnerships with local Higher Education Institutions.
In his message, Chancellor Jose V. Camacho, Jr. discussed opportunities made possible by the MOU. One of these is to capacitate the faculty and staff of BU by studying in one of UPLB's international partner universities.
Chancellor Camacho also promoted UPLB's rebranded research and extension agenda, AGORA or Accelerating Growth through One Research and Extension in Action.
"As we move forward to new forms and approaches of teaching and learning and even research, this is the time to explore new areas of partnership," Chancellor Camacho said.
BU also conducted benchmarking of the College of Development Communication (CDC), College of Human Ecology (CHE), College Public Affairs and Development (CPAf), and the School of Environmental Science and Management (SESAM).
Present during the event were BU president Arnulfo M. Mascariñas; OIDHE director Greg T. Pawilen, college deans Dr. Ricardo M. Sandalo (CHE), Dr. Rowena dT. Baconguis (CPAf), Dr. Mildred O. Moscoso who represented Dr. Maria Stella C. Tirol (CDC), Dr. Rico C. Ancog (SESAM), and Dr. Ramon T. De Leon, representing Dr. Ramesis M. Lorino (BU Open University). (John Glen S. Sarol)