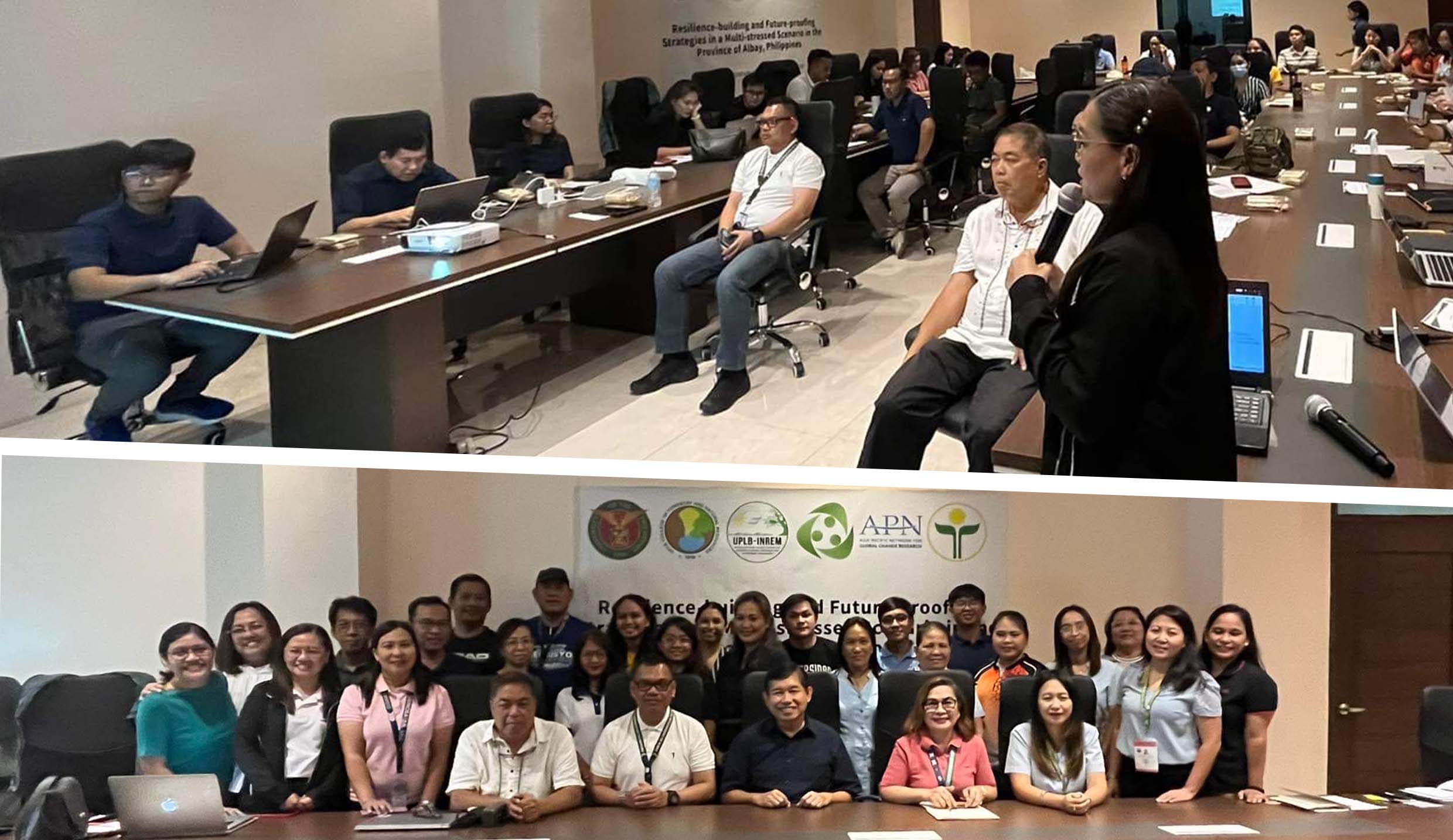 UPLB-INREM, UPRI facilitate project proposal planning on resilience-building for Albay watershed
The UPLB Interdisciplinary Studies Center for Integrated Natural Resources and Environment Management (UPLB-INREM) and the UP Resilience Institute (UPRI) facilitated a project proposal planning session on resilience-building for the Quinali A watershed at the conference hall of the Office of the Mayor of Ligao City on Sept. 5.
The activity aimed to develop a watershed-based project co-implemented by the local government units of Ligao City and the Municipalities of Camilig, Libon, Guinobatan, Oas, and Polangui.
The project proposal planning session was an activity under the "Resilience-Building and Future-Proofing Strategies in a Multi-Stressed Scenario in the Province of Albay, Philippines" of UPLB-INREM and UPRI.
It is the second in a series of capacity-building activities launched during a hazard map interpretation training course last March.
During the activity's opening program, Mayor Fernando V. Gonzalez welcomed the stakeholders and stressed the importance of collaborative undertakings in the Quinali A watershed in the face of changing climate and environment.
The same sentiments were echoed in a message by DENR Community Environment and Natural Resources Officer (CENRO) Narisol Divin of Guinobatan town given on behalf of Bicol DENR Regional Executive Director Francisco Milla, Jr.
Divina emphasized the need for policies and programs to conform to a science-based resilience framework. He endorsed the adoption of the Transdisciplinary Approach for Resilient and Sustainable Communities or Project TRANSFORM of the DENR.
In his message given through Eugene Escobar, Dr. Cedric Daep, head of the Albay Provincial Public Safety and Emergency Management Office, stressed that processes, policies, and procedures of DRR should be founded on and driven by data. Escobar is the research division chief of the Albay Provincial Safety and Emergency Management Office.
The project results were presented to the Quinali A stakeholders with UPLB faculty members discussing its various aspects.
Liezl B. Grefalda discussed institutional capacity index while Dr. Maricel T. Villamayor talked about participatory vulnerability assessment and qualitative visualization of hazards and impacts. Dr. Josephine Garcia gave a presentation on landscape fragmentation.
UPRI technical staff Arge Esquivel discussed probabilistic risk assessment while Gifford Jay Agudo covered topics on land cover change assessment, land cover-based hazard assessment, and multi-hazard assessment.
In the afternoon session, stakeholders were grouped according to their respective areas of work, namely: social welfare, disaster risk reduction and management, planning and development, and agriculture, environment, and natural resources.
Based on the results, each group developed a watershed-wide project proposal for an adaptation measure to increase the watershed's resilience.
The top proposals, deemed as having the greatest impacts on stakeholders, included programs on integrated and diversified food production systems, reforestation and conservation, community livelihood support, and mainstreaming climate change adaptation and disaster risk reduction and management in comprehensive land use plans.
The groups agreed to further develop their proposals within six weeks, in time for the third installment of the capacity-building activities focused on proposal finalization.
Dr. Juan M. Pulhin, project leader and UPLB-INREM chair, acknowledged the difficult situation in the province considering evolving hazards. He emphasized the importance of accurate and up-to-date information as inputs to decision-making.
This includes both scientific data (e.g., results of modelling) and local knowledge, which mostly emanates from the LGUs. He added that proper LGU data and knowledge management are the keys to ensuring that local information is accurate and reliable.
Dr. Pulhin also shared his enthusiasm about the future projects that Quinali A stakeholders may want to pursue; and assured them that UPLB-INREM's partnership and engagement will continue despite the project concluding in a few months.
The Resilience-Building and Future-Proofing Strategies in a Multi-Stressed Scenario in the Province of Albay, Philippines is a 30-month project supported by the Asia-Pacific Network for Global Change Research and implemented together with the UP Resilience Institute in partnership with DENR Region 5, Bicol University, and the City of Ligao. (Kyle Vincent Singson, Farah Y. Sevilla, Christian Ray C. Buendia – UPLB-INREM)
Aligned with our commitment to: