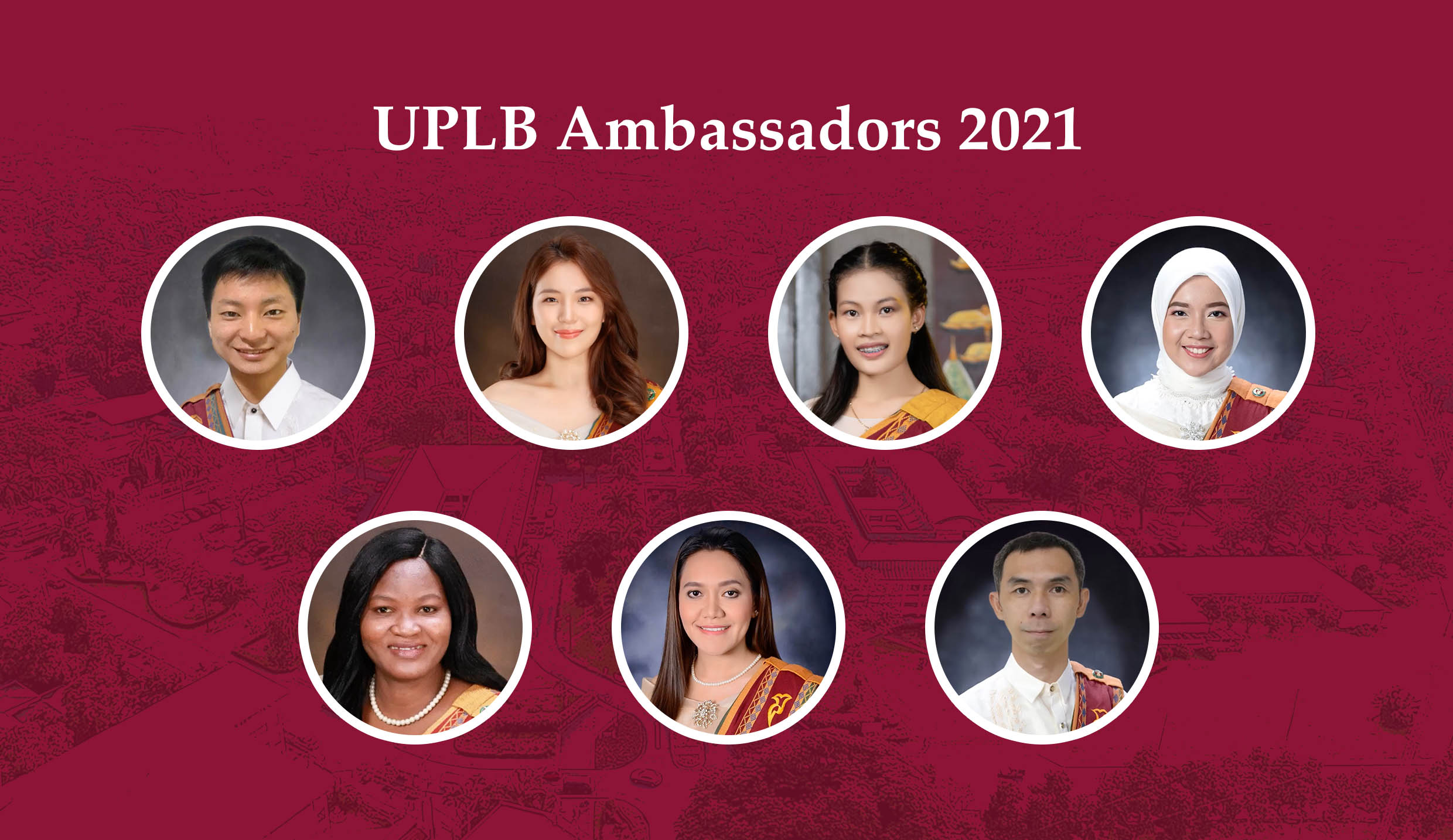 UPLB installs seven new ambassadors
The International Student Relations of the Office of the Vice Chancellor for Student Affairs commissioned seven at the 9th Commissioning Rites of UPLB Ambassadors held on Aug. 3 through their Facebook Page.
The seven will serve as UPLB advocates in their respective countries, to aid the university in promotion and in internationalization such as through facilitating international collaboration and exchange programs.
Dr. Janette H. Malata-Silva, vice chancellor for student affairs, led the program by recognizing the UPLB ambassadors as "international students who have exemplified impressive academic performance, active involvement in campus activities, and have manifested good behavior during their stay in the campus."
Dr. Silva urged the UPLB ambassadors to, "be our partner in sharing to the world the virtues of a UP graduate: one with honor and excellence." She also wished them to grow both in wisdom and experience and bring with them the aspiration of a true Iskolar ng Bayan, that is to serve the people.
In his message to the latest batch of UPLB ambassadors, Chancellor Jose V. Camacho, Jr. said that with the recognition comes the responsibility to be the university's partners in the further internationalization of UPLB, by spreading good word about the culture of honor and excellence in the university.
Chancellor Camacho further said that as ambassadors they are enjoined to promote to their fellows UPLB as their university of choice, to facilitate linkages and partnerships for UPLB in relevant institutions, and to serve as exemplars of what UPLB alumni can achieve and contribute in building and in the international community.
The UPLB Ambassadors of Class 2021 are Adelia Ghafira Putri from Indonesia; Alice Teta Kongoh of Liberia; Ines Soares Pereira of Timor Leste; Vat Sovanny of Cambodia; Takashi Murayama of Japan; Yire Jeung of South Korea; and Teerapong Wongsathan of Thailand.
Over the past nine years, the university has already commissioned more than 100 international students as UPLB ambassadors. (Rizza B. Ramoran)