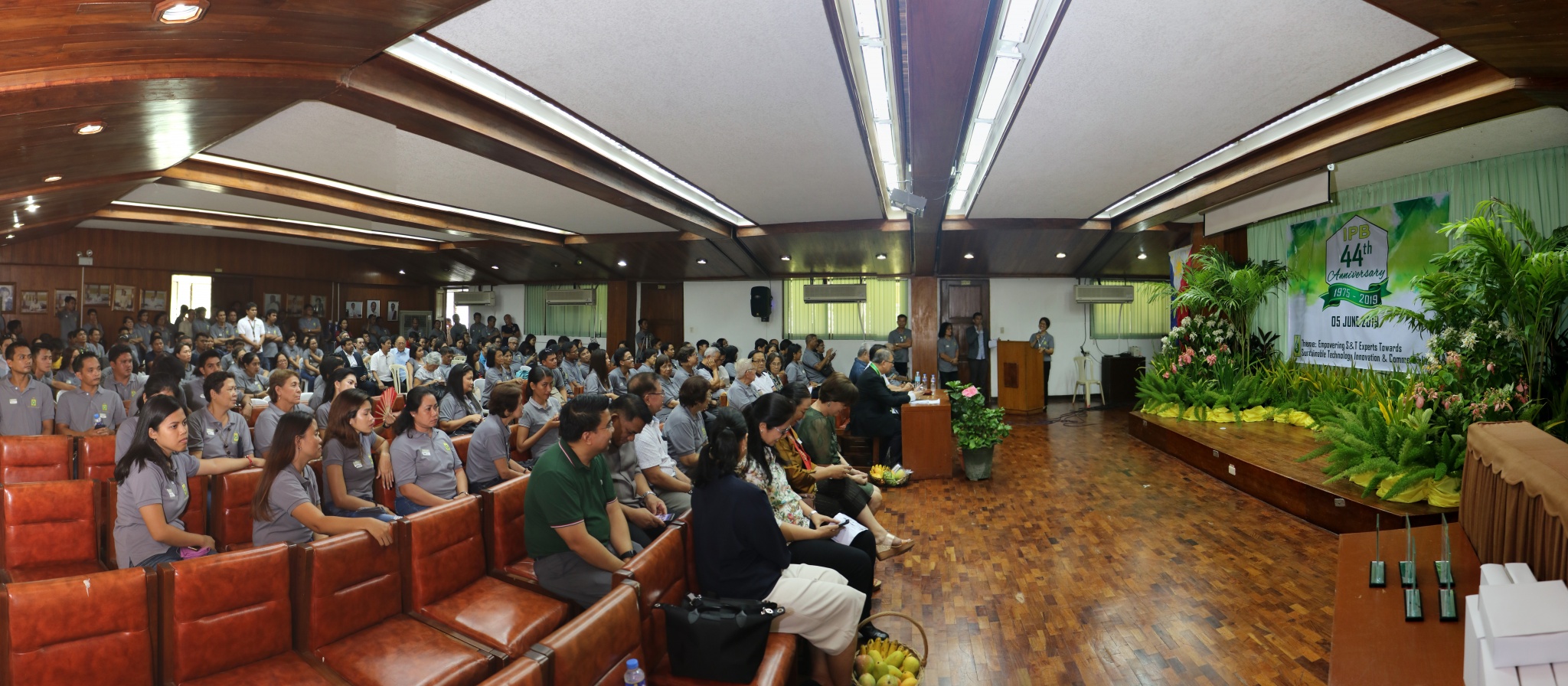 UPLB-IPB introduces new crop varieties, hybrids
New varieties and hybrids of fruits and ornamentals add up to UPLB's contribution to food security and biodiversity.
'Mapilak,' a new Lakatan variety, promises intermediate resistance to the destructive Banana Bunchy Top Disease.
A new line of soybean varieties, the Tiwala 14, 16, 18, and 20, proves to yield 14% to 70% more than the benchmark variety registered with the National Seed Industry Council (NSIC).
Meanwhile, two new gumamela hybrids, the Hibiscus rosa-sinensis 'Mariquit dela Pena' and Hibiscus rosa-sinensis 'Gabriela Roldan-Concepcion' that were named after two distinguished Filipinas, have expanded UPLB's gumamela collections.
All of these crop innovations that are now registered with NSIC were presented during the celebration of the 44th founding anniversary of the Institute of Plant Breeding (IPB) on June 5 at the IPB Seminar Room.
Plant breeders from IPB developed these new products of science – Dr. Olivia Damasco and her team for the 'Mapilak,' with funding from the Department of Science and Technology; Elmer Enicola for the new Tiwala soybean varieties; and Agripina Rasco for the two new hibiscus hybrids.
More crop varieties were featured during the event.
These include the 'Farrales' and 'Mangoming' mangoes, and the 'Reina' roselle that IPB has registered as new varieties under its own Germplasm and Technology Registration and Release Office.
'Farrales' from Castillejos, Zambales is known to produce at least 200 kilograms of fruit per fruiting season.
'Mangoming' from Iligan City, Lanao del Norte yields 100 kilograms of larger-than-average-sized fruits per fruit season. It is officially the heaviest mango in the world, with one fruit setting the world record at 3.435 kilograms.
Both mango varieties were evaluated and developed by the team of Scientist Lolita Valencia.
'Reina' roselle, named for its crown-like edible calyx, was developed from roselles collected in South Cotabato by the research team of Dr. Rodel Maghirang in response to the growing demand for roselles in the food, beverage, and pharmaceutical industries.
Roselles are used in Filipino cuisine as a souring ingredient in dishes such as sinigang, tinola, and tulingan.
Present during the presentation of these crops was Department of Science and Technology Secretary Fortunato dela Peña, who acknowledged the contributions of IPB to food security, economy, and science and technology.
He also emphasized that these research outputs should be utilized and adapted in the community. "Our researchers are very innovative but commercialization is very much needed," he noted.
Chancellor Fernando C. Sanchez, Jr. followed through on Sec. dela Peña's statement. He said, "We want to make the products of our dedication and labor accessible to stakeholders for the benefit of the Filipino people."
IPB's Junior Researchers Organization committed to promote the new crop varieties to indigenous communities in Bataan through an outreach program on June 10-11.
Aside from plant varieties, IPB also showcased the Coconut Genome-wide SNP Loci and SSR Marker Set which can be used to analyze and determine specific genes for the improvement of coconut varieties. Dr. Hayde Galvez and Darlon Lantican led this development in collaboration with Cornell University. (Jessa Jael S. Arana)