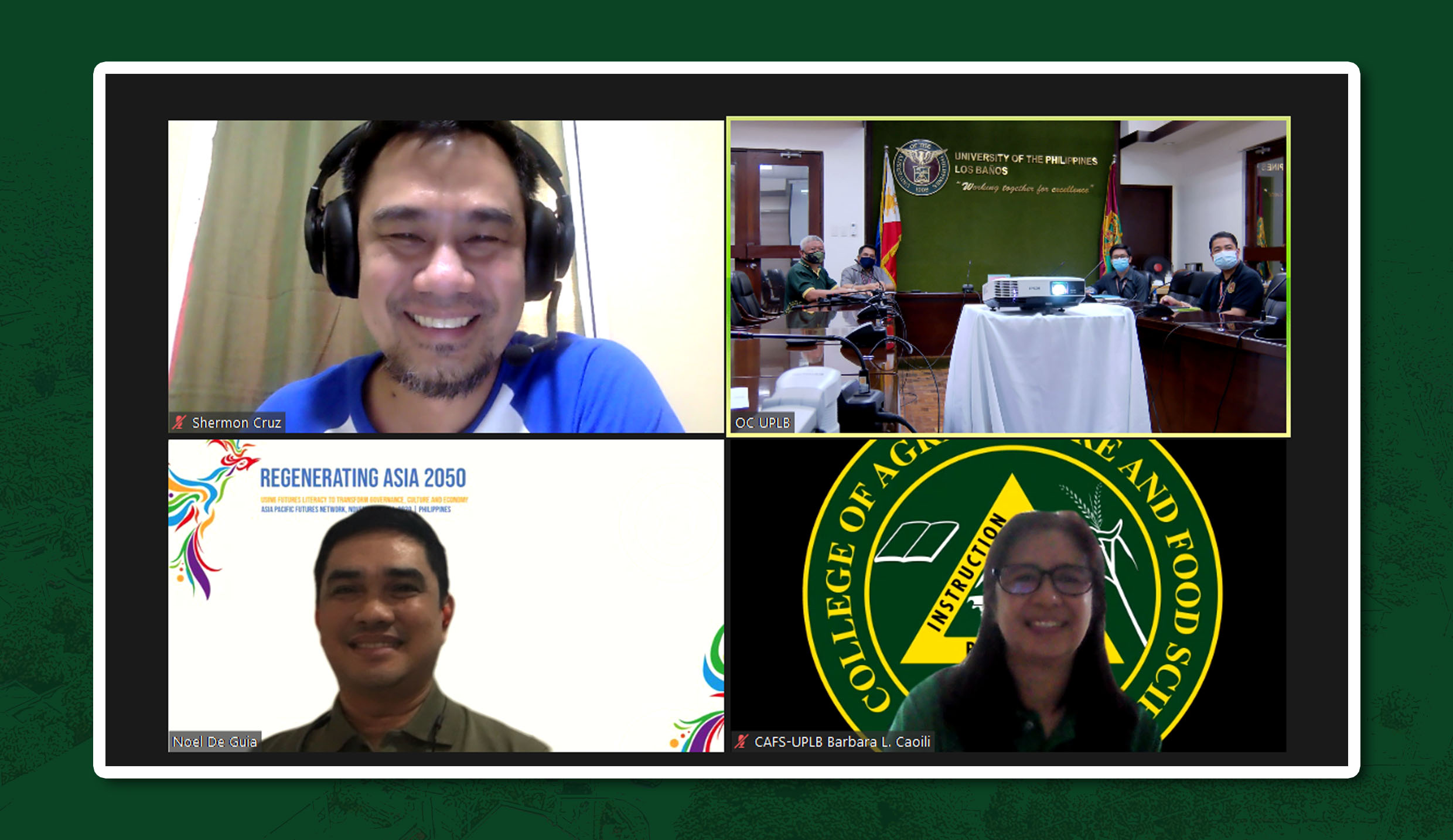 UPLB joins Futures Thinking initiative
A new opportunity for collaboration has arrived at the doorsteps of UPLB as Chancellor Jose V. Camacho, Jr. opens the future-proofing era of the university.
On Feb. 2, Chancellor Camacho met with the representatives of the Office of Senator Pia S. Cayetano via video conference to explore ways by which UPLB could take part in the nationwide Futures Thinking initiative of the legislator.
Sen. Cayetano, who chairs the Senate Committee on Sustainable Development Goals, Innovations, and Futures Thinking, has identified state universities and colleges, one of them being UPLB, that will be capacitated on Futures Thinking.
Futures Thinking, according to Asian Development Bank, is the theory and methods that provide approaches to help identify emerging issues, negotiate uncertainties, identify scenarios, and formulate a vision of the desired future.
The Organisation for Economic Co-operation and Development added that Futures Thinking focuses on policies, strategies, and actions that will promote desirable futures in the next 10 to 20 years, and even more.
Shermon Cruz, lead futurist and trainer of the Philippine Futures Thinking Society, affirmed that Chancellor Camacho's pursuit of future-proofing falls under Futures Thinking. He said that the former is synonymous to the concept of anticipatory risk management of Futures Thinking, in which institutions and initiatives are being shaped to become antifragile and to survive crises.
Cruz and UPLB alumnus Noel De Guia, staff member of Sen. Cayetano, relayed the commitment of the senator to equip UPLB decision-makers and scholars on Futures Thinking knowledge and skills through a grant that would facilitate capacity building and scenario development process.
Chancellor Camacho, together with Dr. Elpidio Agibisit, Jr. and Dr. Barbara Caoili, dean and associate dean for research and extension, respectively, of the College of Agriculture and Food Science, welcomed the invitation from Sen. Cayetano's office.
They identified the area of food systems security and sustainability on which UPLB could focus its participation in the Futures Thinking movement.
Immediately after the meeting, Chancellor Camacho formed the UPLB Ad Hoc Committee on Futures Thinking Program through issuing Administrative Order No. 061, Series of 2021.
The 17 member-strong committee, chaired by Dr. Agbisit and co-chaired by Dr. Caoili, has been tasked to oversee the smooth implementation of the Futures Thinking Research and Innovations for Food System and Food Security project, to promote futures literacy in the university, and to craft the UPLB Food Futures Research and Agenda, among others.
All of UPLB's colleges and schools are represented in the said committee, which reflect its interdisciplinary orientation. (Mark Jayson E. Gloria)
Aligned with our commitment to: