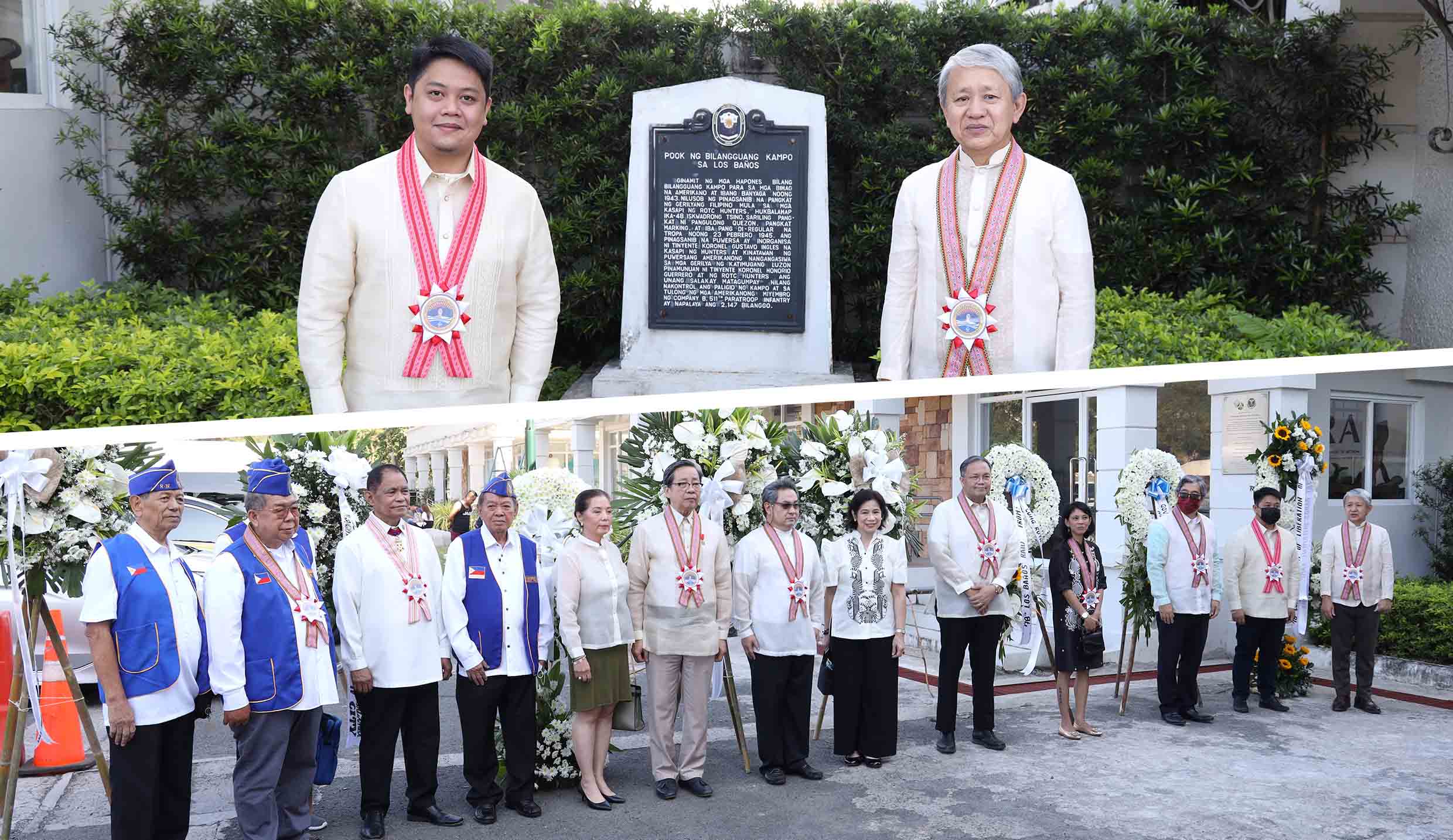 UPLB & Los Baños commemorate 78th year of Liberation
UPLB and the municipality of Los Baños commemorated the 78th anniversary of the Liberation of Los Baños on February 23 at the Charles Fuller Baker Memorial Hall.
The Los Baños Liberation is remembered worldwide as a successful military rescue operation with over two thousand civilian and military prisoners freed from the internment camp at the Baker Hall compound during World War II.
The program was held to remind the Los Baños community of the determination and courage of the US Army Airborne soldiers and the Filipino guerrilla troops who carried out the successful operation.
This year's celebration came in three parts: the ceremonial wreath laying, an opening program, and a discussion of the history of February 23.
Vice Chancellor for Community Affairs Roberto P. Cereno represented UPLB Chancellor Jose V. Camacho, Jr. In his message, he enjoined the audience to continue to honor those who paid the price for peace by remembering them and learning from their example.
He said that the freedom and democracy being enjoyed today come with a responsibility to contribute to the nation-building that should be started in communities and the local government.
"The UPLB community remains committed and cooperative with the Los Baños LGU in policies that seek to maintain our town's peace, safety, and security, and in worthy undertakings that promote science, education, youth development, tourism, and good governance," Cereno added.
In his speech, Los Baños Mayor Anthony F. Genuino said the event would inspire the younger citizens. He extended his wishes for the younger generation that as they struggle with their lives, they will find inspiration from the veterans to overcome the challenges they are experiencing.
Laguna Governor Ramil L. Hernandez reminded guests of the importance of the day. In his message, he said that this day is a reminder of the heroism and cruelty of war.
"We are not celebrating the war but instead avoiding it. We have heroes to guide us towards the light of freedom," Hernandez said.
Two guest speakers graced the event.
Dr. Ricardo T. Jose, a professor at UP Diliman, gave a lecture on the liberation of Los Baños. In his presentation, he discussed in detail how Los Baños became an internment camp and how the release of more than 2000 prisoners was made possible.
Ms. Sofi G. Tidon, a 97-year-old World War II survivor and a Los Baños native, also graced the event and shared her experiences as a teenager surviving during the war. She shared her different imagery of witnessing the dropping of bombs and being a guerilla. Tidon also reminded the public and the younger generation about giving value to today's senior citizens as they were significant in the rescues. She expressed hopes that the Los Baños community will continue reminiscing this day of remembrance.
Representatives and officials of different organizations participated in the ceremony: Los Baños Vice Mayor Josephine Sumangil; Assistant to the Vice Chancellor for Community Affairs Benevieve Villanueva; Miguel Angelo Villareal, First Vice President of Veteran's Bank; Retired Brigadier General Ramon G. Santos, vice president of the Veterans Federation of the Philippines (VFP); David M. Ingles, president of the descendants of Hunters ROTC Guerrillas, Inc.; Bernardo Cadapan, president of the VFP Laguna 2nd district; and Mr. Aquino S. Lee, president of the WA CHI Veterans Descendants Association Inc.; Atty. Federico A. Manalo, program director of the Philippine Veterans Bank; Assistant Professor Ruben Jeffrey A. Asuncion, who served as the moderator during the program's open forum; and constituents and UPLB students. (KEAraguas)
Aligned with our commitment to: