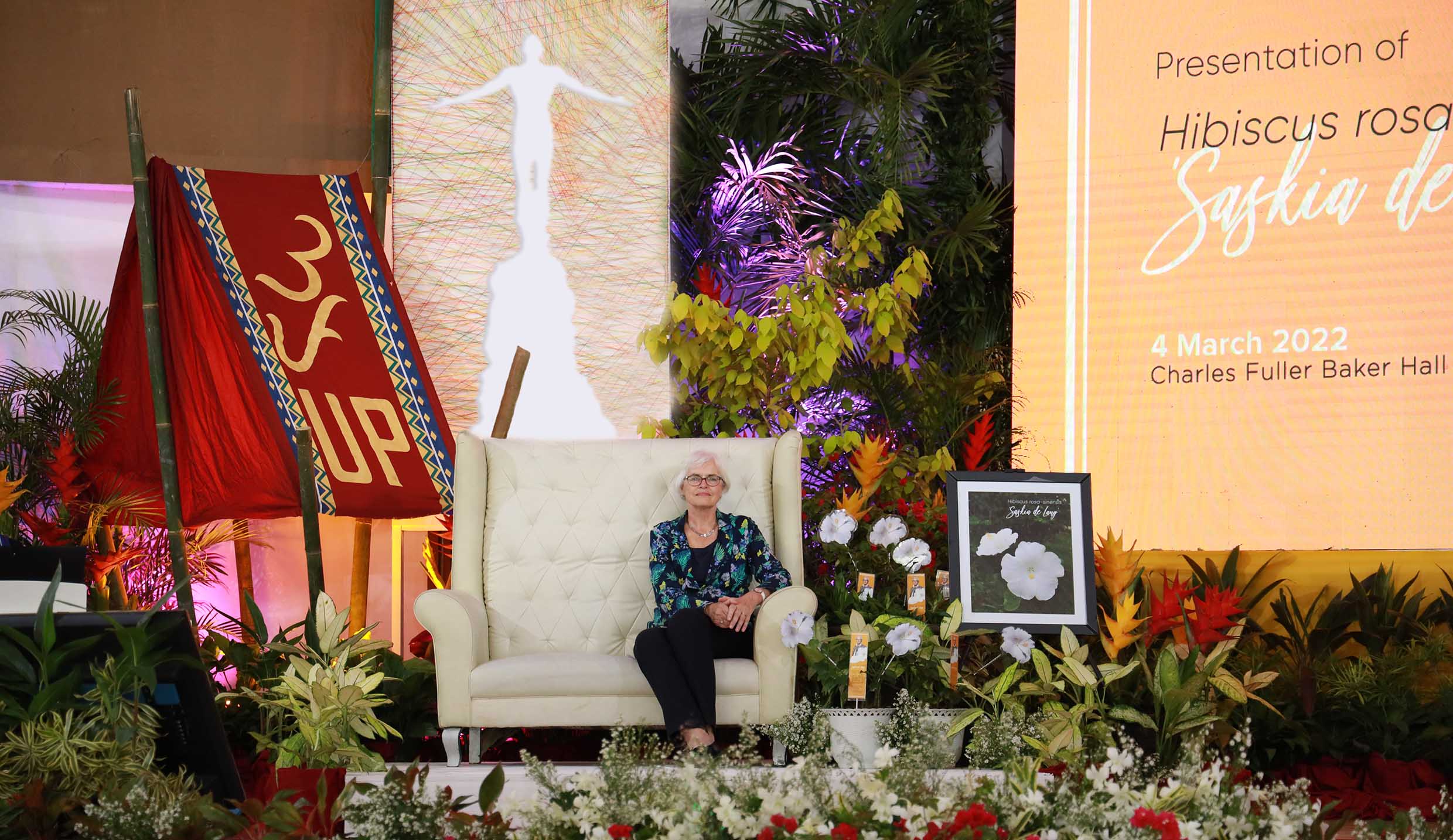 UPLB names new hibiscus variety after Dutch Ambassador Saskia de Lang
Active in diplomatic service in the Ministry of Foreign Affairs of the Kingdom of the Netherlands since 1982, Her Excellency, Saskia de Lang, Dutch Ambassador to the Philippines, is the first to be honored with a new hibiscus variety under the new hibiscus hybrids "Diplomat Series."
The "Diplomat Series" will name new hibiscus varieties after women in the diplomatic community who have made significant contributions in strengthening bilateral and multilateral relations among nations.
Hibiscus rosa-sinensis 'Saskia de Lang' was officially presented to Ambassador de Lang on March 4 at the Charles Fuller Baker Hall as part of the 113th Foundation Day anniversary celebration of UPLB.
Ambassador de Lang also served as the event's guest speaker.
Hibiscus rosa-sinensis 'Saskia de Lang' is a three-way cross hybrid developed by Dr. Pablito M. Magdalita, plant breeder at the Institute of Plant Breeding and faculty member at the Institute of Crop Science.
Having white corolla and yellow stigma, the five-petal flower is simple and solitary and lasts for a day. The plant is shrubby, compact, densely leafed, and is of medium height.
Chancellor Jose V. Camacho Jr. described the gumamela hybrid as one that exudes elegance and refinement, as well as strength and benevolence, similar to the characteristics of Ambassador de Lang.
Over the years, the UPLB Hibiscus Program has produced stunning and attractive hibiscus hybrids named after outstanding and exemplary women who were recognized for their work and advocacy.
Ambassador de Lang, throughout her career, stood at the helm of various foreign missions working on economic cooperation, agriculture, as well as food and water infrastructure, and other sustainability efforts.
The Kingdom of the Netherlands has been a long-term partner of the Philippines, with companies like East West Seed and Alaska having close ties with UP and other agencies in the sectors of crop improvement and dairy production.
In her acceptance speech, Ambassador de Lang lauded efforts of breeders in developing new plant varieties. She added that accepting this honor affirms The Netherlands and UPLB's mutual excellence in the field of plant breeding.
She said that the honor signifies the blooming relationship between UPLB and The Netherlands.
At the program honoring Ambassador de Lang, Chancellor Camacho also reiterated UPLB's commitment in partnering with the Dutch government in human resource development and other capacity building programs in line with the former's advocacies in creating opportunities for women in different areas such as agriculture, education, sustainable livelihood, peace and security, health, and nutrition. (Julianne Q. Afable)