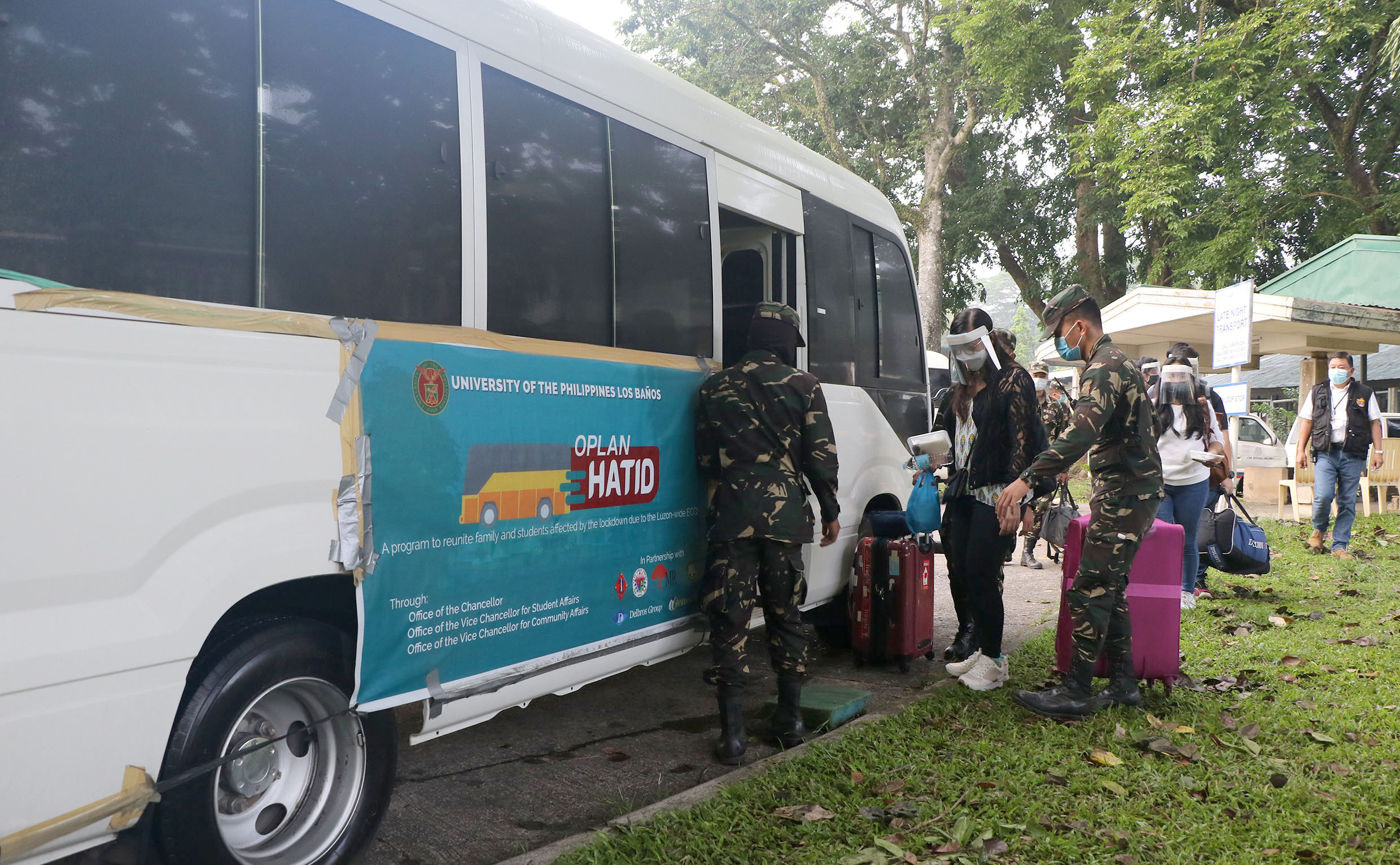 UPLB Oplan Hatid goes interisland!
This week has been monumental for UPLB Oplan Hatid.
It conquered the seas, a seemingly insurmountable challenge in its work to reunite UPLB's stranded students with their families.
According to Mr. Rocky Marcelino, the lead person behind Oplan Hatid, the recent operations to Mindoro, Catanduanes, and Davao City have been significant in that they were able to go beyond Luzon island with the help of the Local Government Units (LGUs) of the students.
Marcelino, officer in charge/director of the Office of Student Activities, a unit under the Office of the Vice Chancellor for Student Affairs (OVCSA), has led tightly guarded and coordinated operations with the LGUs, students, their families, and partners of UPLB to make the students' homecoming possible.
Each Oplan Hatid was carried out in close coordination with Chancellor Fernando C. Sanchez, Jr. who networked with alumni and external partners, helped iron out kinks in the operations, made available resources such as mini bus and vans, and monitored each and every trip until the students are reunited with their families.
Its most recent operation, held on May 21, reunited 22 students with their families in Davao City.
The send-off to Davao City happened early in the morning with students undergoing a health check-up before boarding the mini bus that took them to Villamor Air Base Golf Course enroute to the Ninoy Aquino International Airport (NAIA).
A sweeper flight arranged by Davao City LGU led by Mayor Sara Duterte was awaiting at NAIA to fly them home at 11 AM of that same day.
The students were sent off by a team led by Chancellor Fernando C. Sanchez, Jr. and Dir. Marcelino as official chaperones.
Earlier, on May 20, Oplan Hatid ferried 25 students to Oriental Mindoro; and 11 students and a faculty-chaperone to Catanduanes.
The students bound for Mindoro Oriental were first bused off to the Batangas City Port where they were fetched and ferried back to their families by representatives of the Oriental Mindoro Provincial LGU.
They reached their respective destinations on the evening of May 20.
The students from Catanduanes, on the other hand, were ferried to Tagkawayan where representatives of the Catanduanes Provincial LGU received them.
They were brought to Tabaco City Port where they took a sea craft that brought them safely back to their loved ones. They reached Catanduanes at 9:30 AM on May 21.
Each Oplan Hatid, according to Dir. Marcelino, has been difficult to pull off, sometimes finalized late into the night prior to the day of implementation, especially if a concern cropped up.
Oplan Hatid has been supported by UPLB faculty and staff who volunteered to be chaperones inasmuch as it is a standard procedure for each trip to be chaperoned to ensure smooth implementation and to attend to the concerns of students during the trip.
A team of 20 faculty members and one administrative staff also provide support to Oplan Hatid as call center volunteers to inform the students of their schedule details and to respond to personal concerns on repatriation.
Oplan Hatid operations have relied on partners for their successful implementation. Among these are UP Rural High School '87 Alumni Group, Beta Sigma, Delbros Brothers, Minute Burger, 2ID 2IB Task Force Ugnay of the Armed Forces of the Philippines, and the various LGUs where the students hail from.