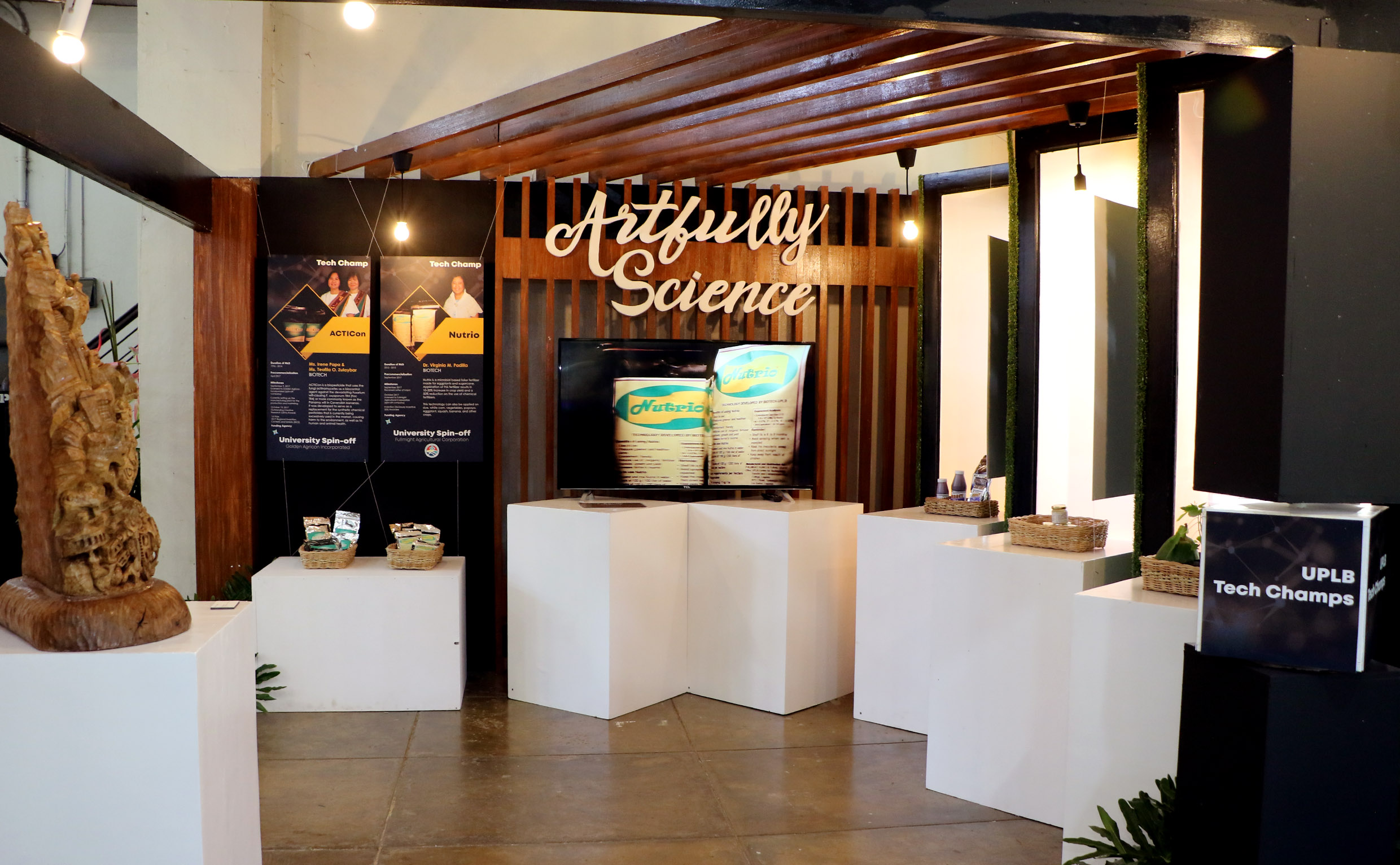 UPLB showcases champion, emerging techs in Foundation Day exhibit
For over a century, UPLB has worked tirelessly to find new methods, inventions, and discoveries to advance science and to serve the people.
On the celebration of its 111th foundation day anniversary, UPLB put on exhibit ten of its outstanding technologies as a side event to the Convocation and Awarding Ceremonies for the 2020 Outstanding Personnel and Program at Baker Hall on March 6.
Of these ten, five are what UPLB considers "champion technologies" – ones that are commercialized and licensed to industry partners and startup companies. These technologies are the following: Sinta papaya, Acticon, Nutrio, Microbial Rennet, and Fruitect.
The remaining five are called "emerging technologies," or those that are about to be commercialized and licensed. These technologies are the following: Monascus Red, Mykovam, Phenofera, SARAi, and SNAP.
Sinta Papaya is the country's first hybrid papaya, created by Dr. Violeta Villegas and Dr. Pablito Magdalita of the institute of Plant Breeding (IPB). With sweet and firm fruits, it is also resistant to the papaya ringspot virus and is highly productive with a single mature tree capable of producing 60 fruits annually.
ACTICon is a biopesticide made by Dr. Irene Papa and Teofila Zulaybar of the National Institute of Molecular Biology and Biotechnology (BIOTECH). It uses Actinomycetes bacteria as a biological control agent against Panama wilt, a disease that has proven lethal against bananas, particularly the Cavendish variety. It is meant to serve as a replacement for synthetic chemical pesticides that have harmful side-effects on the environment and human health.
Microbial Rennet is another product from BIOTECH made by Dr. Susana Mercado. While ordinary rennet is sourced from ruminant animals, this kind is made from fungi. It has proven to be able to produce cheese with higher yields, better sensory qualities, and increased shelf life.
Nutrio is a microbial-based foliar fertilizer for eggplant and sugarcane, capable of increasing crop yield by 10-20% and reducing the need for chemical fertilizers by 50%. This creation of retired UPLB scientist Dr. Virginia Padilla is also applicable to rice, white corn, vegetables, papaya, eggplant, squash, banana, and other crops.
Fruitect is a coating meant to be applied to agricultural produce post-harvest to extend shelf life. Made by Dr. Hidelisa Hernandez and Dr. Veronica Sabularse of the Institute of Chemistry, it is meant for use by fruit traders and exporters and has been proven to delay ripening of fruits like mangoes for up to 18 days.
Monascus Red is a colorant for food, cosmetics, and beverages derived from the Monascus fungi. Created by Fides Marciana Tambalo of BIOTECH, it is safer compared to synthetic colorants, does not require expensive solvents to extract, and is not reliant on seasonal supplies like plant-based colorants.
Mykovam was developed by the team of Dr. Nelly Aggangan, Dr. Jocelyn Zarate, Dr. Reynaldo Dela Cruz, Elsie Lorilla, Sixto Tanyag, Delfina Iringan, and Jofelito Marcos of BIOTECH. It is a soil-based biological fertilizer that promotes water and nutrient absorption, prevents root infection, and increases drought and heavy metal tolerance.
PhenoFera is a phenolic powder derived from mango peel and seed wastes. Crafted by Arsenia Sapin, Teresita Ramirez, and Dr. Mary Ann Tavanlar of BIOTECH, it is meant to be an ingredient in personal care products and helps in skin damage prevention, whitening, anti-ageing, defense against Gram-positive and -negative common skin pathogens, and defense against dandruff-causing fungus.
SARAi, or "Smarter Approaches to Reinvigorate Agriculture as an Industry in the Philippines" is a interdisciplinary UPLB program funded by DOST-PCAARRD and spearheaded by Dr. Ma. Victoria O. Espaldon of the School of Environmental Science and Management. It uses a suite of technologies to create a national crop forecasting and monitoring system for six high-priority crops: rice, corn, banana, coconut, coffee, and cacao.
SNAP is a low-cost hydroponics system meant for vegetable production in areas with limited space. Developed by Primitivo Jose Santos and Dr. Eureka Teresa Ocampo of IPB, SNAP minimizes weeds, insects, and plant diseases while maximizing space use, and has been proven successful in growing lettuce, sweet pepper, cucumber, and celery. (Albert Geoffred B. Peralta)