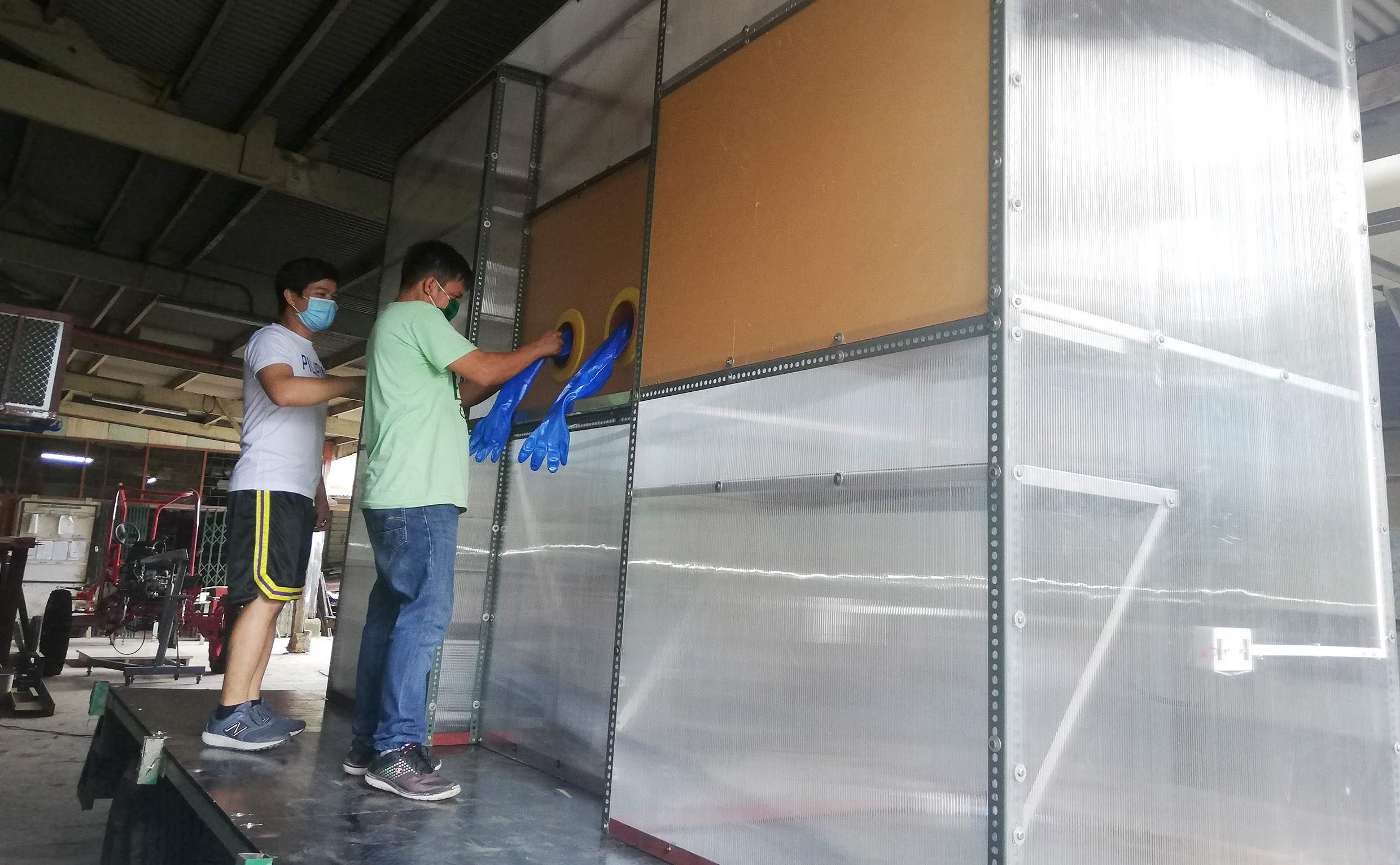 UPLB Task Force innovates on hospital materials in fight vs. COVID-19
The shortage in the supply of personal protective equipment (PPE), hospital apparatus, equipment, and supplies, and the lack of quarantine facilities are among the reasons why COVID-19 mortality is high, even among hospital frontliners.
Recognizing this, the Technology and Facility Innovation Committee, one of six that were mobilized under the UPLB Task Force Laban ng Bayan Kontra COVID-19 or LB Kontra COVID-19, set its sights on counteracting these deficiencies.
The committee is headed by Dr. Arnold R. Elepaño, dean of the College of Engineering and Agro-Industrial Technology (CEAT) while the task force is chaired by Dr. Rex B. Demafelis, vice chancellor for research and extension of UPLB.
Dean Elepaño's team is focusing its attention on helping increase ventilator capacity; fabricating intubation boxes, face shields, and testing booths; addressing both issues of hospital waste management and PPE supply through the use of decontamination chambers; and evaluating and equipping a quarantine/isolation center for COVID-19 positive patients.
A team led by Dr. Kevin Yaptenco of the CEAT Institute of Agricultural Engineering is fabricating and assembling mechanical ventilators in order to supply these life-giving machines to hospitals that do not yet have their own. The team is working with Dr. Jhalique Jane R. Fojas, a research fellow of the Harvard Medical School and a CEAT alumna (BS Chemical Engineering) who has extensive experience in biomedical engineering.
The team also made use of 3D-printing technology to produce venturi valves that are in short supply because these have to be replaced with every patient that uses a ventilator; splitters, an attachment that allows a single ventilator to service multiple patients; and caps, to cover the splitters when they are not in use.
Actual fitting of these parts have been done at the Mary Mediatrix Medical Center in Lipa. These components will be fabricated and sent to hospitals that have their own ventilators, but lack these replaceable parts.
To ensure that healthcare workers (HCW) performing intubation, or the placing of a tube in the patient's windpipe and connecting this to a ventilator, do not become infected by the latter, hospitals use a protective covering called an intubation box.
Under Dr. Victor Rodulfo Jr. of CEAT's Center of Agri-fisheries and Biosystems Mechanization, three intubation boxes have been fabricated and delivered to Healthserv Los Baños Medical Center.
The team also identified other hospitals in Laguna that need intubation boxes and is now fabricating 20 units.
Using 3D printing technology, a team under Ben Paul dela Cruz, a faculty member at the Institute of Mathematical Sciences and Physics of the College of Arts and Sciences (CAS-IMSP), is making face shields that will protect HCWs from aerosol droplets. They are also producing ear guards, an accessory that allows masks meant to be worn around a person's ears – which causes discomfort and possibly pain after long periods of use – to be worn and secured around the back of a person's head instead.
The CAS-IMSP group has produced 2500 face shields and 1500 ear guards and distributed them to different hospitals.
Meanwhile, a team under Mark Anthony M. Baldoz, a faculty member at the CEAT-Industrial Engineering Department (IED), designed a testing booth that allows non-contact specimen collection. It is currently in the process of fabricating one prototype.
The team is also designing a booth that will allow protection for both patients and doctors during the consultation process. It consulted Dr. Jose Felipe G. Hernandez of Mary Mediatrix Medical Center and Dr. Rhodora DR Ocampo of HealthServ Los Banos Medical Center in coming up with the design for the booth.
CEAT is also designing a decontamination chamber that uses hydrogen peroxide vapor (HPV) and ultraviolet light to decontaminate PPEs and N95 masks. This will take care of both extending the use of PPEs and of minimizing hospital waste.
A team led by Dr. Monet Concepcion Detras, Chair of the Department of Chemical Engineering, leads in the design of this semi-mechanized, non-contact decontamination chamber that can disinfect five to ten PPE sets at a time.
The team has begun sourcing of materials so that fabrication and testing of treatment efficiency and material integrity can progress.
They will also establish standard protocols for PPE treatment and reuse after the PPE decontamination chambers.
Should the design and procedure prove viable, the decontamination chambers will be made available for both nearby hospitals and the soon-to-be established COVID-19 testing center in UPLB.
Also in line with the UPLB Task Force's priority goal of establishing a UPLB COVID-19 Molecular Testing Laboratory, a team under Kathleen Baldoz, chair of CEAT-IED, is tasked to evaluate the feasibility of housing a quarantine/isolation center in the UPLB campus.
The team is creating an application that will notify and communicate with COVID-19 patients for pre-testing, and during testing and post-testing. They are also working with various stakeholders, including Armont Business Solutions and UPLB-OVCRE via the CINTERLabs Bioinformatics and Computational Biology team, and the Protocol Committee to design and implement the information system that will be used at the UPLB COVID-19 Molecular Testing Laboratory.
Aside from these priority objectives, the CEAT team is going to fabricate other clinical technologies including improved respirators, nasal swabs, snorkel masks, robot arms, and laboratory furniture and hospital beds. (Albert Geoffred B. Peralta)