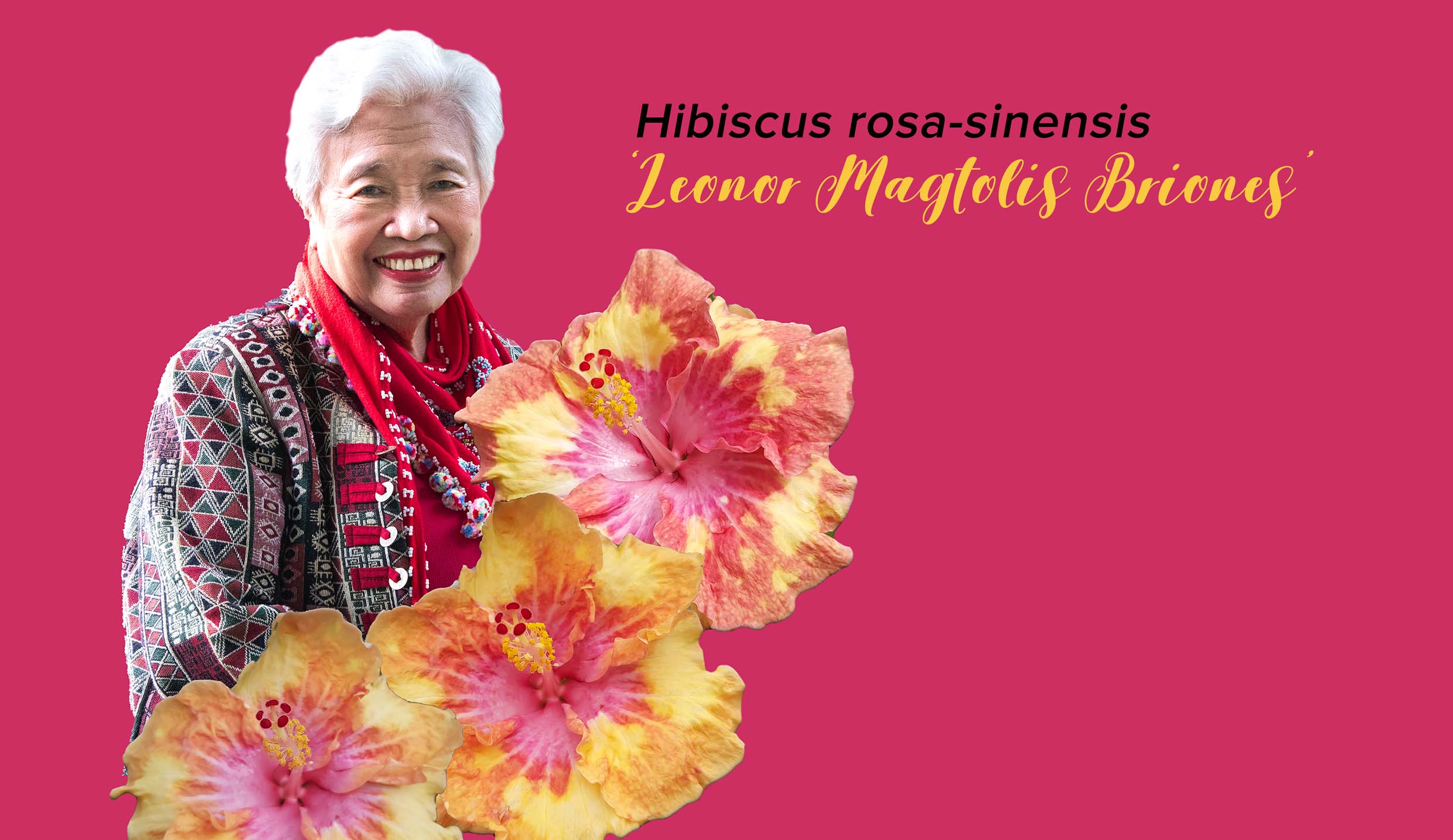 UPLB to name new Hibiscus after Prof Emeritus Briones
UPLB is set to name a new species of Hibiscus rosa-sinensis after UP Professor Emeritus and Education Secretary Leonor Magtolis Briones in a ceremony on Oct. 16.
H. rosa-sinensis 'Leonor Magtolis Briones' belongs to the UPLB Hibiscus Hybrids – Women in Public Service series created to uplift and recognize women for their contributions to the public.
Secretary Briones is currently Professor Emeritus at the University of the Philippines National College of Public Administration and Governance. She is also the former lead convenor of the Social Watch Philippines, former chair of the People's Public Finance Institute, and president of the Freedom from Debt Coalition.
Her accomplished career and her advocacies spanning multiple decades inspired the UPLB selection committee to choose her for this prestigious award.
The H. rosa-sinensis 'Leonor Magtolis Briones' is a sunset orange flower with delicate pink lines extending from the center, and yellow blotches of color dotting its edges. The pinkish overlay is more prominent early in the morning and disappears toward the afternoon. The H. rosa-sinensis 'Leonor Magtolis Briones' bears flowers all-year round that bloom only for one day.
This Hibiscus hybrid was developed by Agripina O. Rasco of the Institute of Plant Breeding, College of Agriculture and Food Science (IPB-CAFS).
Secretary Briones will be joining a long list of recognized Filipinas in the field of public service who contributed to and served their communities and society.
For over 20 years now, UPLB has named Hibiscus hybrids after notable Filipinas who excel in their particular fields of leadership, heroism, science, and the arts.
The naming of the Hibiscus hybrid after Secretary Briones was proposed to IPB by Dr. Glenn B. Gregorio, Director of Southeast Asian Regional Center for Graduate Study and Research in Agriculture. (Kristel Hope Villafuerte)