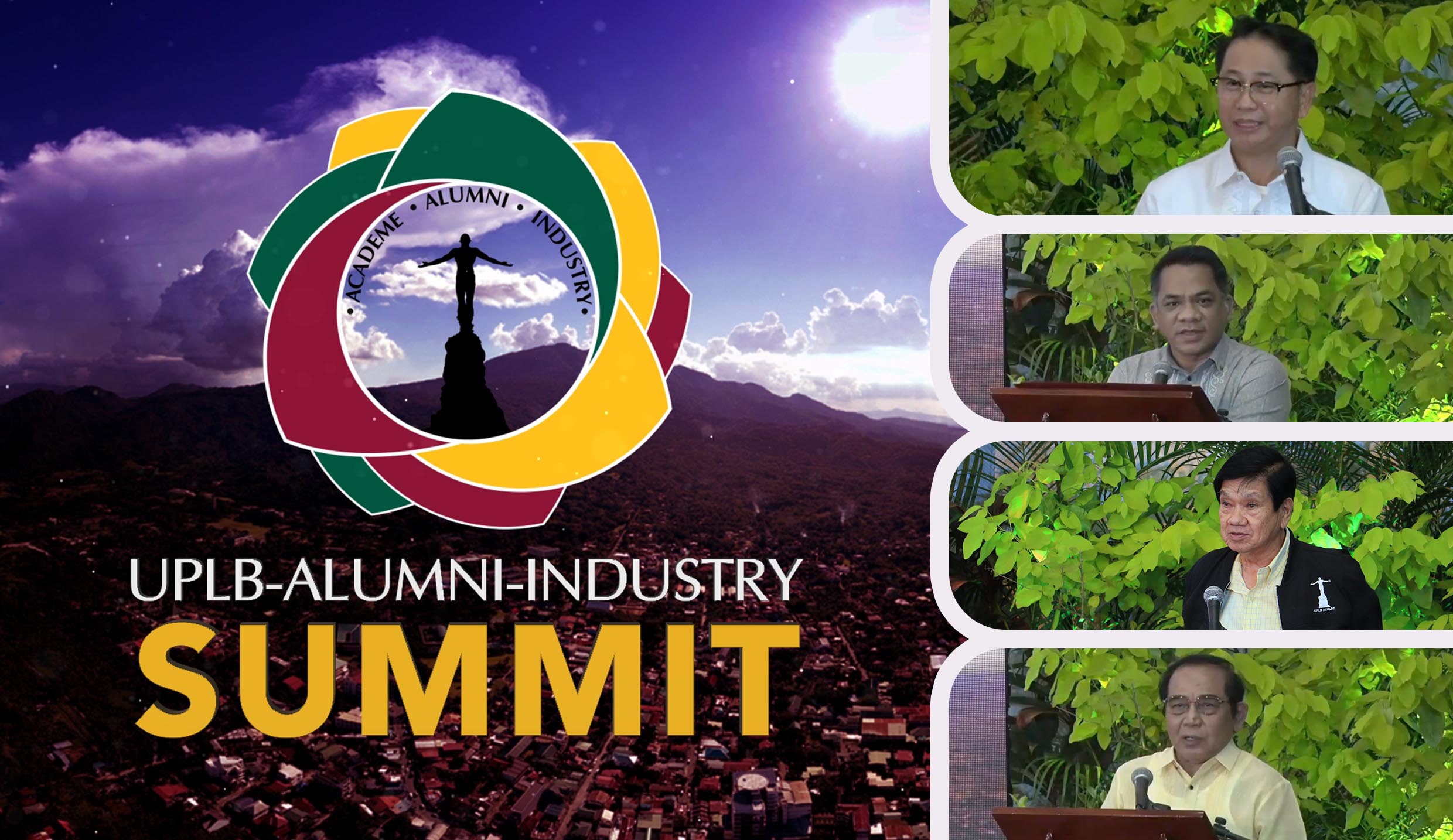 UPLB, UPLBAA launch first alumni-industry summit
The Office of Alumni Relations (OAR) and the UPLB Alumni Association (UPLBAA) partnered up to launch the UPLB-Alumni-Industry Summit 2021 on Nov. 6.
In his introductory remarks at the launching program, Dr. Cristino M. Collado, UPLB-Alumni-Industry Summit overall chair, thanked Chancellor Jose V. Camacho for giving the alumni the opportunity to push his [Chancellor Camacho's] agenda of future proofing. He also applauded UPLB for overcoming the challenges and restrictions brought about by the pandemic.
The whole day summit featured Chancellor Camacho's "Chancellor's Report," which recounted the activities of UPLB over the past year.
Following this was the talk of Dr. Romel Carlos, director of the Technology Transfer and Business Development Office, on his project aimed at mainstreaming innovation and entrepreneurship by integrating entrepreneurship activities in all undergraduate programs that are offered in UPLB.
This is to encourage and develop entrepreneurs from different backgrounds and push for different types of innovation brought about by an entrepreneurial mindset.
Dr. Rico Ancog, dean of the School of Environmental Science and Management, anchored his presentation on the current environmental situation, as well as resource scarcity. Dr. Ancog presented different solutions and ideas on how to resolve these issues through advancements in academe, as well as through research and extension projects.
A panel discussion followed the talks with the theme "Investing our Human Capital Toward Leadership in the Industry."
It featured Dr. Geronimo Collado, a former vice chancellor of UPLB; Dr. Manuel Logroño, former deputy director of the Institute of Plant Breeding; and Dr. Wearapon Thongma, recipient of the 2021 UPLBAA Presidential Award.
The afternoon session began with a talk by Hon. Rommel Gecolea, mayor of Cabuyao City, Laguna, on the City's "Making Employment and Livelihood (MEL) Program," which integrates research and technology into public entrepreneurship.
Following this was a talk by Gov. Hermilando Mandanas of Batangas Province wherein he discussed his plans in relation to "future proofing" his province.
A short question-and-answer followed, featuring both Mayor Gecolea and Gov. Mandanas.
UPLBAA President Mauro W. Barradas gave the concluding remarks of the summit, encouraging the viewers and attendees to always have an entrepreneurial mindset in finding solutions to challenges.
He also invited the UPLB alumni to look back and give back to their alma mater.
Catch up with what happened at the UPLB-Alumni-Industry Summit 2021 here at the FB Page of the Office of Alumni Relations. (Kristel Hope Villafuerte)