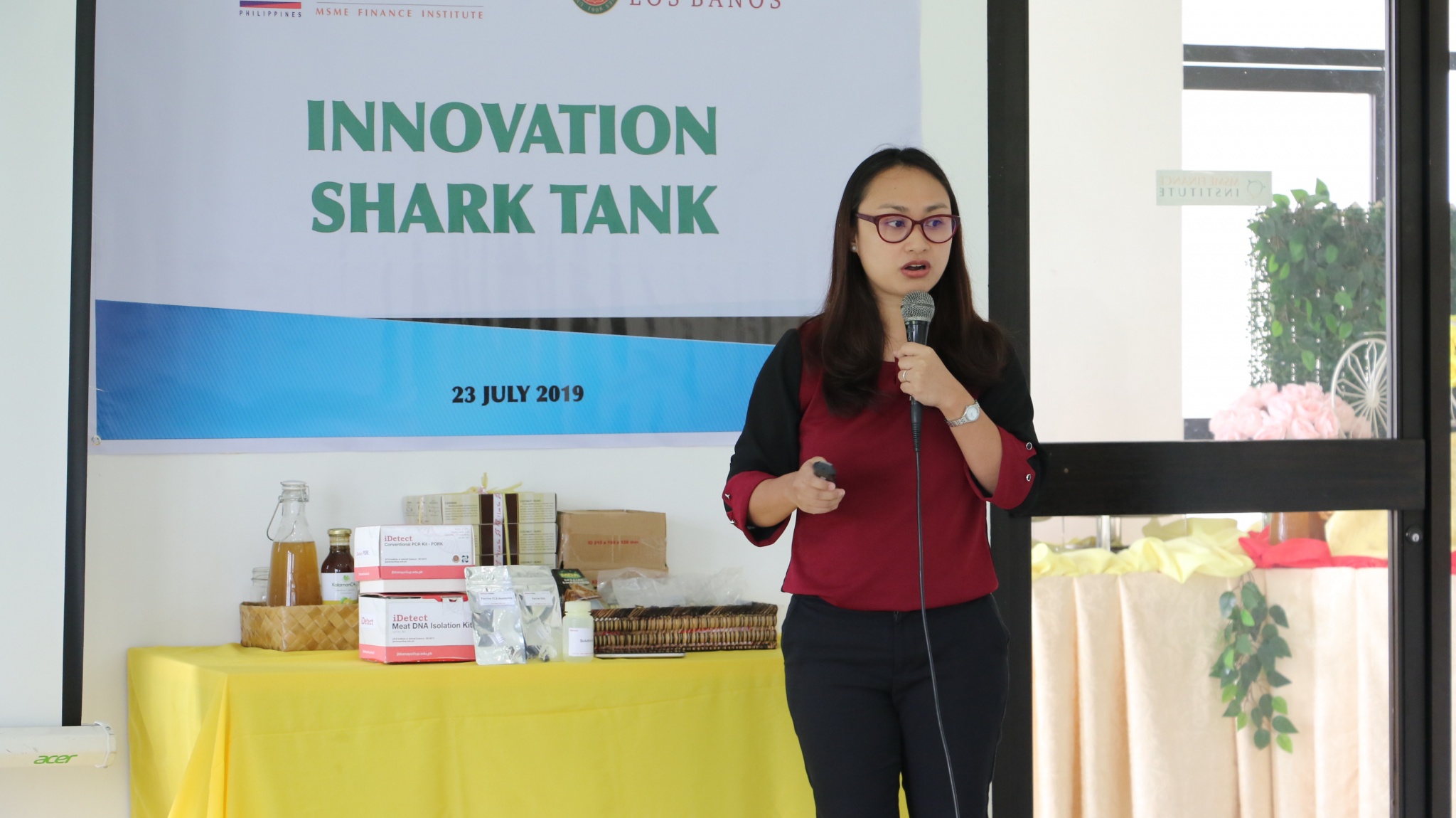 UPLB's meat detection kit secures funding at business pitch session
Ten business start-ups in Laguna, including three technology-based products from UPLB, were given the chance to present their proposals for funding at the 28th anniversary of the Small Business Corporation (SB Corp).
SB Corp is a government-owned and controlled corporation that acts as the official financing arm of the Department of Trade and Industry. One of its units, the MSME Finance Institute, is based at the Agribusiness Center for Entrepreneurship (ACE) building, the venue of the product pitching.
The event known as Bagong Sibol Pitch 2019 was patterned after the American series "Sharktank" wherein entrepreneurs are given a limited amount of time to convince investors to fund their businesses.
The products presented included processed foods, plant and agriculture technologies, and educational services.
During the presentation, the start-ups were evaluated until the top 3 were identified.
iDetect, a meat detection kit developed at the Institute of Animal Science (IAS), emerged in the second place at the end of the event. The kit can be used to identify the kind of animal meat that is being tested. It is currently being developed for 11 kinds of animal meat.
Its developer Joy Banayo, a researcher at IAS, said that they are leading with the iDetect Pork variant to tap into the Halal market.
Banayo explained that certifying bodies in the government and private sector are looking for affordable and effective ways to verify meat in the food industry in adherence to the Food Safety Act and to address food fraud.
Harito Food Products, which specializes in pasalubong delicacies and pastries, ranked first, while MDA Food Products landed at third place with their processed meat products.
The panel was composed of SB Corp officers, namely: Joe Jay Doctora, chair of the SB Corp Board of Committee on Venture Capital Review; Honorio Poblador IV, member of the SB Corp MSME Finance Institute Advisory Council, and Managing Partner at Navegar Endeavor Philippines; and Santiago Lim, member of the SB Corp Board of Directors as private sector representative.
According to Lim, while the top three will proceed to further refinement for funding, SB Corp will still continue to work with the other start-ups until they are ready to go to the next level of their venture.
A message delivered by Dr. Rex B. Demafelis, vice chancellor for research and extension, on behalf of Chancellor Fernando C. Sanchez, expressed UPLB's support for the promotion of entrepreneurship and innovation.
"Our own Technology Transfer and Business Development Office (TTBDO) and its many projects and initiatives are testaments of our commitment in transforming the fruits of research into products for improving the communities and enriching lives," he said.
Glenn Baticados, director of TTBDO, said that they hope to address small businesses' need in financing through their collaboration with both government and private agencies, including SB Corp.
"Hopefully this will become a model wherein collaboration between different players and agencies are [coming into one place] in pushing forward a single vision, that is for the promotion of start-ups," he said. (Jessa Jael S. Arana)