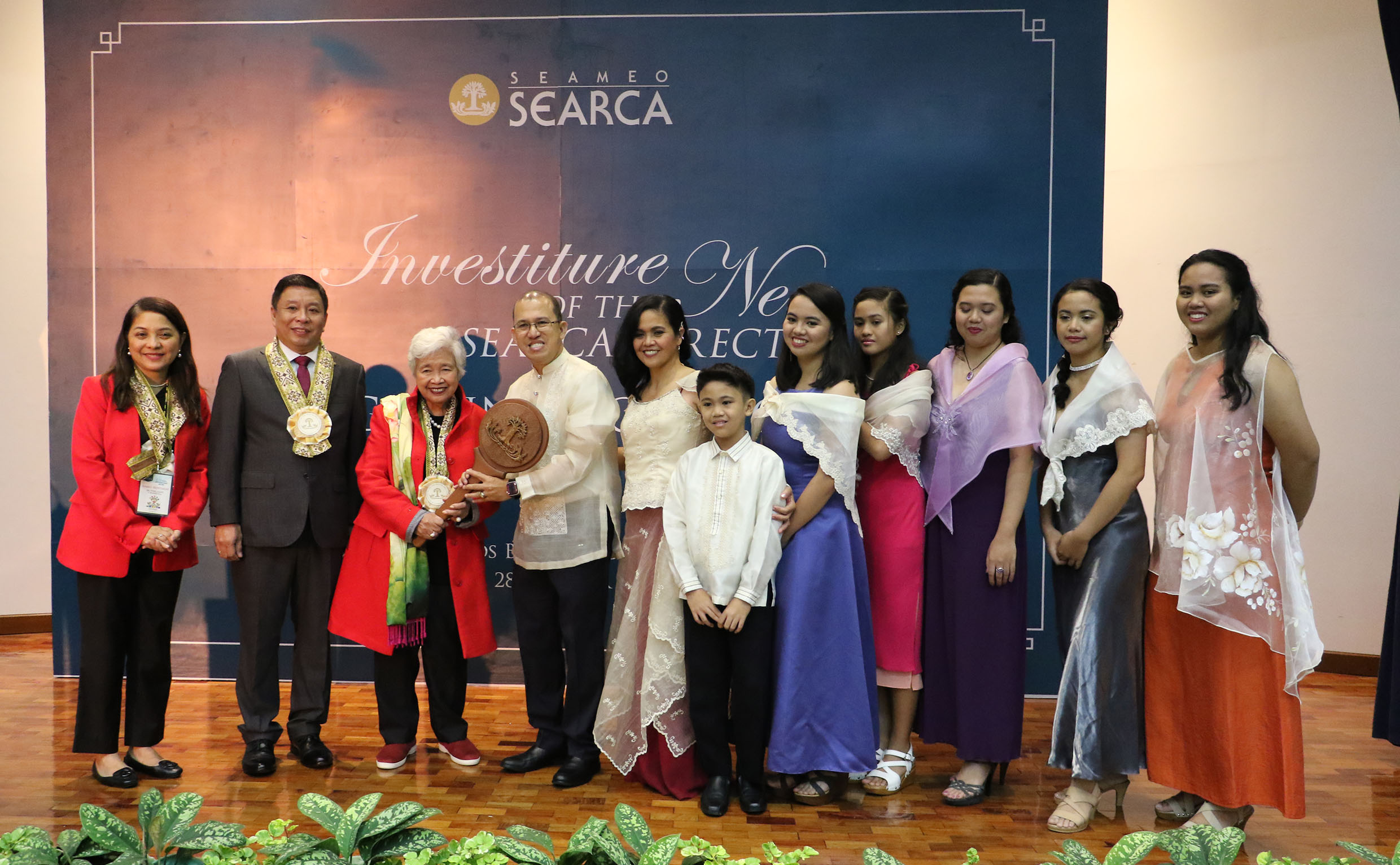 Dr. Glenn Gregorio is formally invested as SEARCA director
Dr. Glenn B. Gregorio, a professor at the College of Agriculture and Food Science, was formally installed as the new director of the Southeast Asian Regional Center for Graduate Study and Research in Agriculture (SEARCA).
The investiture ceremony was held on Oct. 28 at SEARCA headquarters, UPLB campus.
Dr. Gregorio is SEARCA's 11th director since the center was founded in 1966.
He is the 7th UPLB professor to assume the leadership role, following the footsteps of Dr. Dioscoro L. Umali, Dr. Joseph C. Madamba, Dr. Emil Q. Javier, Dr. Fernando A. Bernardo, Dr. Percy E. Sajise, and Dr. Ruben L. Villareal.
Department of Education Secretary Leonor M. Briones, who sits at the council of SEARCA's mother organization, the Southeast Asian Ministers of Education Organization (SEAMEO), presided over the investiture ceremony.
UPLB Chancellor Fernando C. Sanchez, Jr., country representative of the Philippines to the SEARCA Governing Board, delivered the welcome remarks during the occasion.
SEARCA seeks to strengthen institutional capacities toward inclusive and sustainable agricultural and rural development in Southeast Asia through its programs on graduate education, research and development, and knowledge management.
Dr. Gregorio started his three-year secondment as SEARCA director on May 1, 2019 soon after he was appointed professor at UPLB in 2018.
He had served main scientist-plant breeder at the International Rice Research Institute for close to three decades (1986-2015) during which time he developed more than 15 rice varieties, most of which are salt-tolerant.
Dr. Gregorio later moved to East-West Seed Company, Inc. (2015-2018) and became its global breeding manager for corn, covering South and Southeast Asia, Latin America, and Sub-Saharan Africa.
In 2018, he was bestowed the Academician title by the National Academy of Science and Technology.
He is also a recipient of The Outstanding Young Men and the Outstanding Young Scientist awards, both in 2004, and Vietnam's Ho Chi Minh Medal Award in 2012.
Dr. Gregorio earned all his degrees from UPLB – BS Agriculture in 1986, MS Plant Breeding in 1991, and PhD Genetics in 1997. (UPLB Office of Public Relations, with information from www.searca.org)