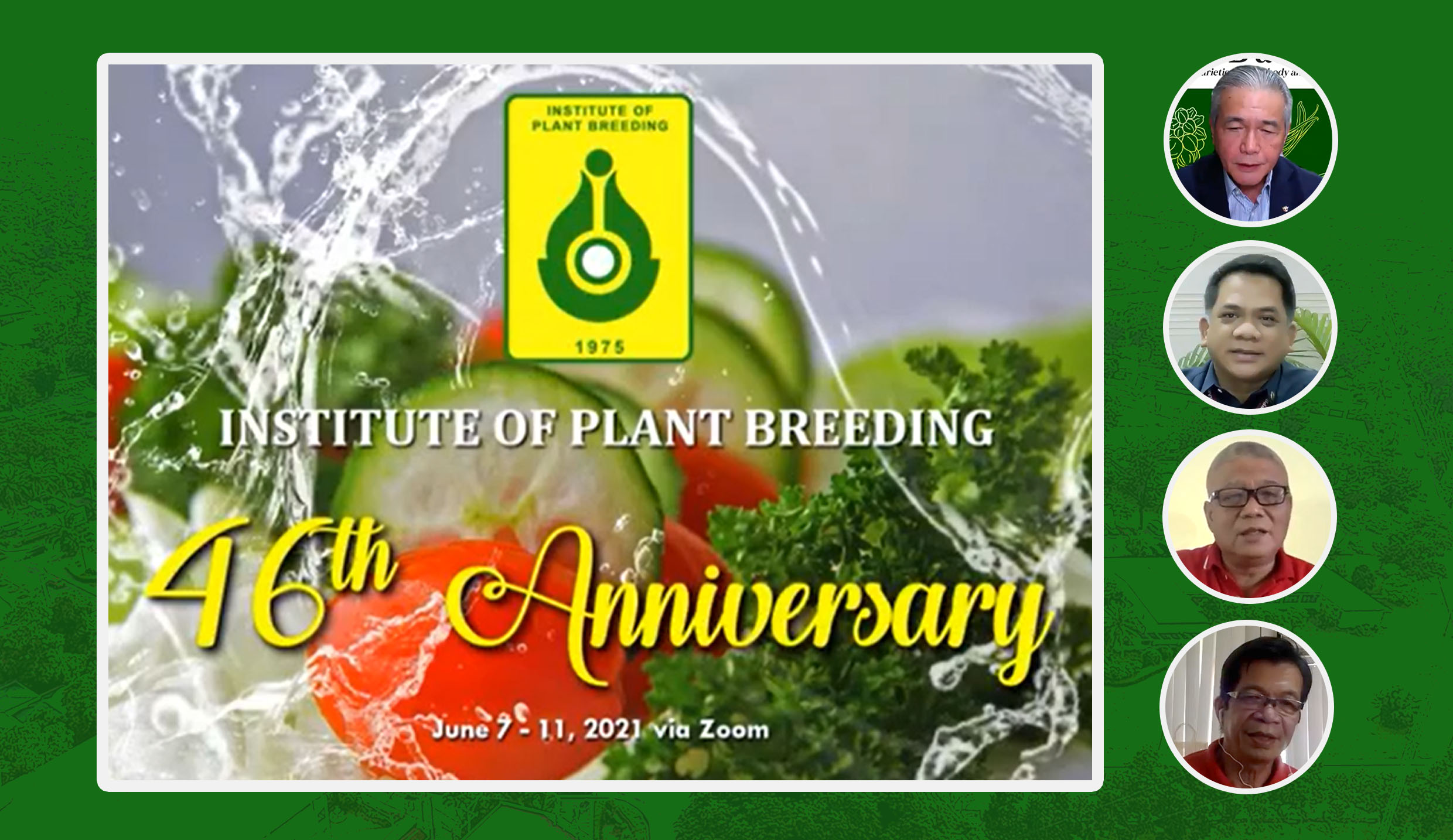 IPB marks its 46th anniversary
The Institute of Plant Breeding (IPB) celebrated its 46th anniversary with week-long activities from June 7 to 11. Themed "Varieties for the body and soul," the celebration was formally opened through an online program streamed live via IPB's Facebook Page.
In his welcome message, Dr. Elpidio M. Agbisit, Jr., dean of the College of Agriculture and Food Science (CAFS), commended IPB for contributing to food security by being at the forefront of developing plant varieties that are resistant to pests and can adapt to climate change.
Chancellor Jose V. Camacho, Jr. echoed the sentiment that IPB has always been at the forefront of Philippine agricultural genetic research.
He acknowledged IPB for its ability to foresee the challenges of the future of Philippine agriculture and expressed his support and confidence that it will endure and prevail in finding and developing viable solutions that can address some of our country's most challenging agricultural concerns.
Keynote message
UP Regent Francis C. Laurel, who delivered the keynote speech, underscored the rapidly growing concern and major issue of food security and production, as well as health and safety due to the pandemic. The implicit challenge though, he said, still remains to be food security.
Regent Laurel said that with the on-going pandemic, IPB has to reinvent itself to continue to be relevant, stressing its significance as the repository of plants that are found in the Philippines.
He expressed confidence in IPB playing an important role in the development of Philippine agriculture. He noted that the Philippines recorded its first and still on-going recession in a long time and that economic recovery is likely yet to happen sometime in 2022.
The only bright spot, he said, is that agriculture grew last year, the only sector of the economy that did.
Regent Laurel expressed confidence that the UPLB administration will live up to the expectations of adapting to the new learning systems to impart knowledge to the young, and at the same time, to sustain its mandate in extension and research.
Commendations and a bus donation
One of the event's highlights was the donation of a bus from Capt. Mauro W. Barradas, president of the Batch '70 CAFS Alumni Association, Inc. Barradas said that IPB is a deserving recipient of the bus because of its location.
IPB Director, Dr. Rodel G. Maghirang, lauded IPB personnel who still performed well despite the challenges of the pandemic.
According to him, IPB and its personnel registered 59 new crop varieties and received 17 awards from different award-giving bodies.
He recognized IPB's first responders during the onset of the COVID-19 pandemic as well as their contribution to COVID-19 response through seedling distribution. He further reported that IPB held a number of webinars to disseminate knowledge to the public, took part in the community pantry, as well as extended help to IPB constituents and nearby communities.
As part of the tradition in celebrating its anniversary, IPB also recognized its outstanding staff during the event. IPB awarded its outstanding faculty, researchers, research teams, as well as its administrative staff who had served from 10 to 40 years in the institute.
Adopt-a-Native Tree Program
IPB also officially launched the Adopt-a-Native Tree Program of the National Plant Genetic Resources Laboratory (NPGRL), which was introduced by Dr. Lavernee S. Gueco, division head of the NPGRL. During the launch, Dr. Gueco said that the program will address the sustainability concerns of planted trees, giving emphasis on its importance especially during the time of the pandemic.
The week-long anniversary celebration featured a series of events showcasing its milestones, technological advancements, and crop varieties developed in the past 46 years. It was attended by IPB's former leaders: National Scientists Emil Q. Javier, Dolores A. Ramirez, and Ricardo A. Lantican; Academician Dr. Ruben L. Villareal; and former IPB Director, Violeta N. Villegas. Also present was Vice Chancellor for Research and Extension Merdelyn C. Lit.
The anniversary activities ran from June 7 to 10, 2021 with a special feature of the newly introduced crop varieties and IPB's virtual exhibit tour, available for online public viewing on IPB's official Facebook Page. (KEAraguas)