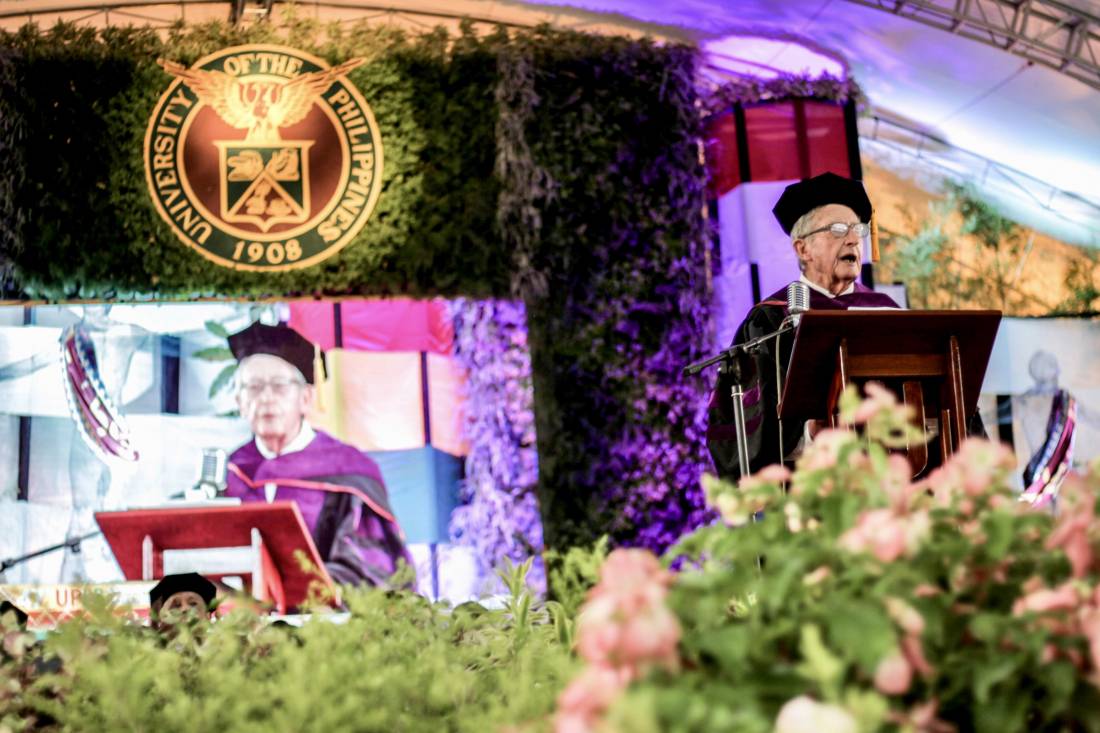 The speech of Dr. Simon N. Groot, Guest Speaker at the 47th UPLB Commencement Exercises
Thank you all.

I would also like to acknowledge the presence of:
Her Excellency, Ambassador of the Netherlands, Saskia de Lang
Dr. Danilo Concepcion, President of the University of the Philippines
Dr. Fernando C. Sanchez, Jr., Chancellor, UP Los Banos
The Board of Regents of the University of the Philippines
Dr. Elpidio Agbisit, Jr., Dean, College of Agriculture, UP Los Banos
Faculty members
Graduates
And all their parents, friends, and families

And above all, to all of you, the new generation of Filipinos and Filipinas!
You are the ones that will make this country succeed in 10 to 20 years from now.
And a lot of that success will depend on the quality of our farming industry. That's why it feels so good to be here, the cradle of development of the Philippine farming industry for more than a hundred years.

This is the country that I came to love over the last 38 years, longer than many of you have been here, although I will perhaps never be able to develop the patriotic feelings you all have. But indeed, I learned a lot about you in these three decades, mostly good but not all, I must say. As you know my passion belongs to agriculture, and allow me now to use a few terms from this field.

I would like to talk to you about the power of COMBINING ABILITY. Combining ability is a very common term for plant breeders as some of you here may know or are about to learn. In the simplest way I could attempt to explain, it stands for combining the quality and economic value of a plant by recombining several highly desirable characteristics.

I'd love to go deeper into the history of crop improvement that is very close to my heart but we'll save that for another time and for some other audience.

To me, combining ability is something that is not only important in plants but also in people, organizations, and cultures.


After 60 years of seed industry experience, I have learned that it is of crucial importance to combine the right kinds of knowledge about crops and markets together with a group of inquisitive local talents.
That's what we have been trying to do here. We have to learn the power of innovation in the world of small and big farmers.

Let me give you a bit of history – that usually helps to deliver some insights of where we stand today and where we should go in the future.

It all started over 35 years ago when I was so fortunate enough to meet Ben Domingo, a long-term seed trader, also a farmer in Isabela and Nueva Ecija, as well as a trader of Benguet vegetables.
I also met Dr. Rasco who's also from here [UP]. Ben unfortunately passed away last year. Dr. Rasco is here and he was a great inspiration to get these new seed projects moving in this country.

Ben Domingo was also importing seeds of Chinese leafy vegetables from Hong Kong, and watermelon and onion seed from California. For the rest of the vegetable farmers, they were saving their own seeds of Tomato, Talong, Ampalaya, Calabaza, Upo, and Sitao!

By the way, all these crops had come from other parts of the world, mostly reflected in their names. Talong and Ampalaya from a Malay speaking country, most likely the Eastern part of what is now Indonesia, Calabaza and many other Spanish words came from the Spanish connections, and Pechay and Sitao came from the Chinese languages. There is a lot of interaction with the Chinese vegetable industry but that is a long story and I won't bore you with that today.

Ben Domingo had observed the power of innovations in seed quality and seed performance in Japan and the USA and he was keen to explore these potentials for the typical vegetable crops that farmers grow here. These crops were subject to a range of fungal and viral diseases where the farmers with their own saved seeds were powerless. They can't do anything.

And that's why my partnership with the late Ben Domingo was so vital in those first 20 years.
Ben knew everything about Philippine farming, vegetable trading, Bureau of Plant Industry and quite a few leaders here in Los Banos. And I came here with a complete lack of knowledge of this country, the people and the crops. But I had a pretty good knowledge of the long history and the modern developments of the seed industry over the 30 postwar years in the rest of the countries.

So Ben and I had this exceptional level of "Combining Ability", the foundations of East-West Seed. And we proved that it worked and that's the reason I'm standing here in front of you.

The seed price for the first Hybrid Ampalaya with good disease tolerance was around one peso per seed. That was, of course, outrageous in the views of the ampalaya farmers in Cavite and Pampanga. But the hybrid Ampalaya produced at least 1 kilogram more fruits per plant, therefore providing much better profit for the farmer who was used to using his own saved seeds.

It was all about creating ADDED VALUE for the farmer. And this is really the heart of the matter for serious seeds people: how can we create added value for the farmers. We kept pursuing that objective for all those years and that has really made us the friends of the farmers and it should always remain the objective of serious seedsmanship.

Good seedsmanship needs to be backed up by solid applied science. And that's why our connection with this University [UP] is of critical importance. We also have a good working relationship with the leading agriculture university in Holland called the Wageningen University and we even have to bring in several experts on certain specific projects. That worked out well–they came here to share their knowledge and the Filipinos shared their knowledge, and it became a very productive team. So let's continue that combination that worked so well to combine our competencies.

Let me also now turn a page to the economics of vegetable farming; that may not come as a surprise to some of you who know about my academic background is in business economics, that is later on complemented by my career in the seeds industry as a member of a seeds family company.

In general, small farmers with some basic farmer extension support and good seeds can jump their income from vegetable farming compared to rice farming.

And we have proven that thousands of times in this country, and we will continue to do so. I'm sorry to say, this is not maybe very good for the self-sufficiency of rice in this country but it is the only way to go. There is still plenty of rice in the neighboring countries that need vegetables and we need farmers to make enough money.

One of the many letters of congratulations letters upon my World Food Prize 2019 said:
"You have helped small farming communities move from subsistence farming to horticultural entrepreneurship" and that quotation made me very proud.

My old friend Zac Sarian has been reporting many success stories of Philippine farmers in the past 25 years. His collected works would make excellent reading material for students of food horticulture economics.

And now let's turn also a bit to agri-macroeconomics. We are here with, give or take a hundred million, and we have 3 million hectares of rice, more or less. Vegetable acreage when we started was about 4% of rice acreage when we started, and now we are well over 5% vegetables over rice acreage, so we're on the way. And I think the trend will continue. Any new percent of the rice farming acreage being turned over to vegetable farming can add 1 billion USD to GDP! And, of course, it's mostly to rural GDP, the benefits of that vegetable farming go to rural communities who really need it.

And then there are the related nutrition and health issues. Men cannot live from rice and Pan de Sal alone. There is a lot of studies on the benefits of balanced diets. And they still have to find a way to get our young children somehow interested in amateur vegetable farming and of course know vegetable nutrition.

90 % of the growth of the brain content of children between 2 and 8 years old depends on the quality of the food they eat. So that is a very big factor and it has a real impact in the future of our young generations. I remember a story I kept telling our people here a long time ago. Why are the Chinses so smart? Are they eating more vegetables because they are smarter or are they smarter because they eat more vegetables?

We can start simply with what we now call Taiwan or Chinese Kangkong. Stir-fried Kangkong with rice is one of the most popular combinations for small children and teenagers in Thailand and Vietnam. Sometimes they will stir-fry kangkong, and it becomes nice and tender, and can easily be grown from seeds. I think that it will be a good vegetable for the future and for the young people. They seem to like that combination, just rice and stir-fried kangkong. So I suggest, and I mentioned it also to BPI yesterday also, let's go for a new KKK program– KangKong for Kids.

And there are many other exciting innovations in vegetables. We have introduced sweet glutinous corn that is great in taste and glutinous. The old Patola, the ridge type, is making a comeback all over Asia, a very healthy crop. Okra is also making a comeback because of better virus tolerance.

Here in the Philippines, we had the problem of namamarako in ampalaya. I tried to mention that over lunch to a few people and they were all shaking their heads: "What the hell does that mean?" It was a term invented by farmers who observed that because of some unknown disease problem, which later turned out to be a new virus, the flowers changed their sex expression and hardly produced any female flowers, just males, and that means no fruits.

So that led to 10 years of intensive research to overcome and to introduce new virus-tolerant ampalaya.
I am coming to the end of my relatively short address, and let me most of all emphasize that agricultural development needs a variety of skills leading to COMBINING ABILITY.

Scientific skills are part, but primarily it takes passion for farmers, big and small. And that's the lessons I learned in 60 years of very intensive seedsmanship. Half of it were in this part of the world and it all started for me in the Philippines. This is the cradle of wealth of East-West Seed which is now well-known in all of Southeast Asia. There is a great future.

I started my postgraduate life as an intern in several US seed-companies in the Midwest 60 years ago. As a person of above average curiosity, I read the newspapers and came across the then well-known US journalist Will Rogers, who became famous for his simple observation: IT TAKES ALL KINDS OF PEOPLE TO MAKE A WORLD. His picture even ended up on a US Postage stamp with the same words.

For me this was a piece of US New World wisdom, which stayed with me for 60 years. And it takes all kinds of people to make a decent seed company and it also takes all kinds of people to make farming more productive and also financially rewarding.

So now, it comes back to you all because agriculture and farmer development – and on a bigger scale, nation-building – need all sorts of skills.
Some of them you can develop here, others only in the great big world of learning by doing.
You can also train your analytical skills and above all develop a propensity for searching for all kinds of innovation in the world of farming.

This country and many others in tropical Asia and Africa need you. I hope you will make the right choices and God bless you all.

Thank you.
Photo credit: https://ph.eastwestseed.com/