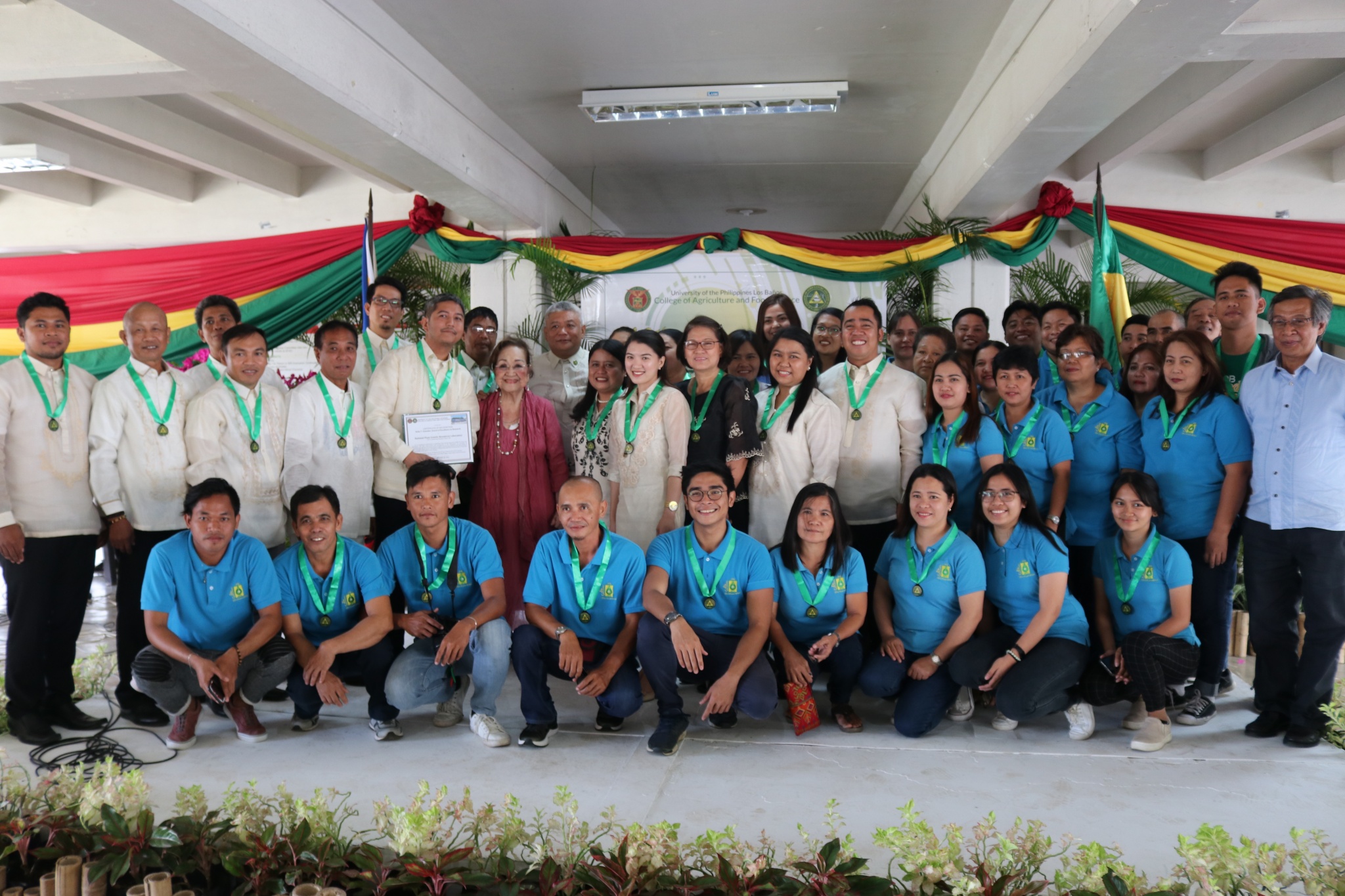 CAFS awards outstanding personnel, students
Recognizing some of the best and most notable among its workforce and students is an activity that the College of Agriculture and Food Science (CAFS) continues to highlight each time it marks its Foundation Day anniversary.
The CAFS Recognition Day on its 110th Founding Anniversary was held on March 6 at the Nemesio B. Mendiola Hall.
In a speech delivered at the program, Dr. Adeliza A. Dorado, associate dean for instruction, appealed to the awardees to sustain their drive and to carry the torch that the college's great achievers have held through the years.
"May you not lose sight of the true UP experience of soaring high not for individual glory, but always for the people," Dr. Dorado said.
Receiving the Nelia T. Gonzalez Awards of Excellence were Dr. Eureka Teresa M. Ocampo, outstanding senior faculty and Ryan Rodrigo P. Tayobong, outstanding junior faculty, both from the Institute of Crop Science; and Dr. Amado A. Angeles of the Dairy Training and Research Institute, as outstanding senior researcher (faculty).
Wella L. Absulio, Engr. Emmanuel Q. Amatorio, and Nestor L. Garcia bagged the trophies for outstanding junior researcher, professional, and blue collar personnel, respectively. All are from CAFS' Postharvest Horticulture Training and Research Center.
Romeo S. Lantican of the Institute of Weed Science, Entomology and Plant Pathology was named outstanding technician, while the Carrageenan Team of the National Crop Protection Center was hailed as outstanding extension team.
The Institute of Plant Breeding's Dr. Merdelyn C. Lit and the National Plant Genetic Resources Laboratory were declared outstanding senior researcher (REPS) and research team, respectively, both at the college and university level.
Dr. Nelia T. Gonzalez, former UP alumni regent, and in whose honor the award is named, presented the awards, together with Dr. Portia G. Lapitan, vice chancellor for academic affairs, and Dr. Elpidio M. Agbisit, Jr., dean of CAFS.
It was also the first time that the CAFS recognized its employees who had served the college for 15, 20, 25, 30, 35, 40 and 45 years. They received certificates of appreciation for their invaluable contribution to the university.
Outstanding recent graduates and current students were also honored during the recognition program.
Its top five examinees in the June 2018 Agriculturist Licensure Examination received monetary awards from the UPLB Foundation, Inc., namely: Reneliza D. Cejalvo, 3rd place; Nadine B. Coronado, 4th place; and Shamah R. Reynaldo and Darlene Joy M. Siena, 5th place.
They also received certificates and medals, alongside other topnotchers, namely: Sharlene Mae T. Suter, 6th place; and Jomari C. Domingo, 7th place.
CAFS also recognized its students who made it as University and College Scholars.
Dr. Maria Cynthia R. Oliveros, college secretary of CAFS, spearheaded the awarding of students, together with the academic institute directors, Dr. Dorado, and Dr. Agbisit.
In his message, Dr. Agbisit reiterated the aim of CAFS to promote a robust agricultural sector and industry and to meet the challenges of food security, safety, poverty, climate change, and environmental sustainability.
"One hundred and ten years has been a long way, so we ask among ourselves: what are the things that we have done to continue our commitment of developing relevant programs in education, research, extension, policy making, advocacy, and nation building," Dr. Agbisit said, by way of enjoining CAFS to soldier on. (Imelda M. Gesmundo, article photo by Emmanuel B. Carandang)