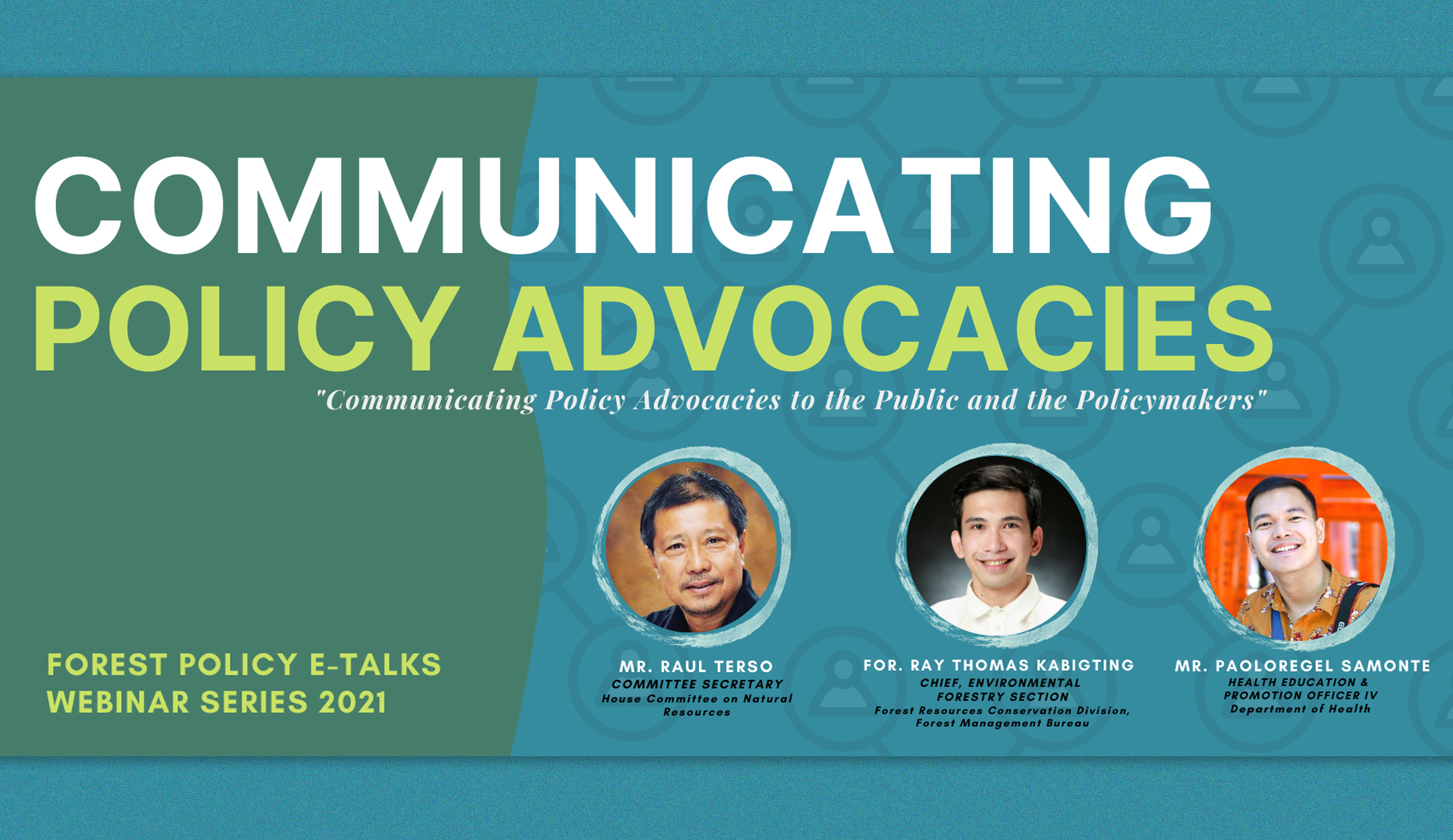 FDC tackles communicating policy advocacies in webinar
The Forestry Development Center (FDC) featured discussions on communicating policy advocacies in forestry and in COVID-19 response in the webinar, "Communicating Policy Advocacies," held via video conference on April 20.
In his opening remarks, Dean Marlo D. Mendoza of the College of Forestry and Natural Resources (CFNR) emphasized the importance of policies to combat climate change in times of the COVID-19 crisis.
"The public should be able to rely on structures such as policies to address probable effects, and thus, respond to their needs and ensure a stable social and economic environment amidst the pandemic," Dean Mendoza said.
He pointed out that the pursuit of strengthening the country's policies is not an endeavor of only one sector but is a collaboration across sectors and disciplines.
Raul G. Terso, committee secretary on natural resources of the House of Representatives Committee on Natural Resources, shared an overview of the Philippine legislative process while focusing on the importance of the committee level stage wherein dialogues and consultations with affected sectors are done.
"There is an established system where constituencies, sectors, and groups whose interests are affected by any pending legislation are given sufficient opportunity to be heard and to present their side," Terso said.
He gave tips on effective advocacy in legislation such as identifying a proponent or a possible champion for proposed legislation and backing advocacy work with research.
In the next segment, For. Ray Thomas F. Kabigting, chief of the Environmental Forestry Section of the Forest Management Bureau, presented a key element in his arsenal of approaches to communicate policy advocacies.
"Have an understanding of laws and policies and be able to communicate science in a very articulate manner. Update yourself with the innovations in the field that you are advocating and establish networks," he pointed out.
Sharing a perspective in the communication and health sector, Paoloregel B. Samonte, health education & promotion officer of the Department of Health, discussed the initiatives, BIDA SOLUSYON PLUS and RESBAKUNA, which are both used to communicate policies in COVID-19 response.
Samonte also gave insights on the process that DOH uses to develop their communication campaign strategies. "Our principles of engagement are to improve local communities' self-reliance and participatory decision-making, focus on most vulnerable or at-risk populations, and recognize the need to create enabling social and physical environments to promote good behavior," he added.
FDC is under CFNR and was established in 1978. As the policy research arm of DENR, it is mandated to conduct basic policy research in forestry and help inform stakeholders and the general public on current policy issues and recent developments in forestry and related fields.
The virtual event was the second webinar in FDC's Forest Policy E-Talks Series, which started on April 8 with a discussion on wild foods as non-timber forest products with Dr. Ramon A. Razal as the resource speaker.
The full webinar is available on the FDC Facebook page: https://www.facebook.com/uplbfdc/videos/289847769461972.