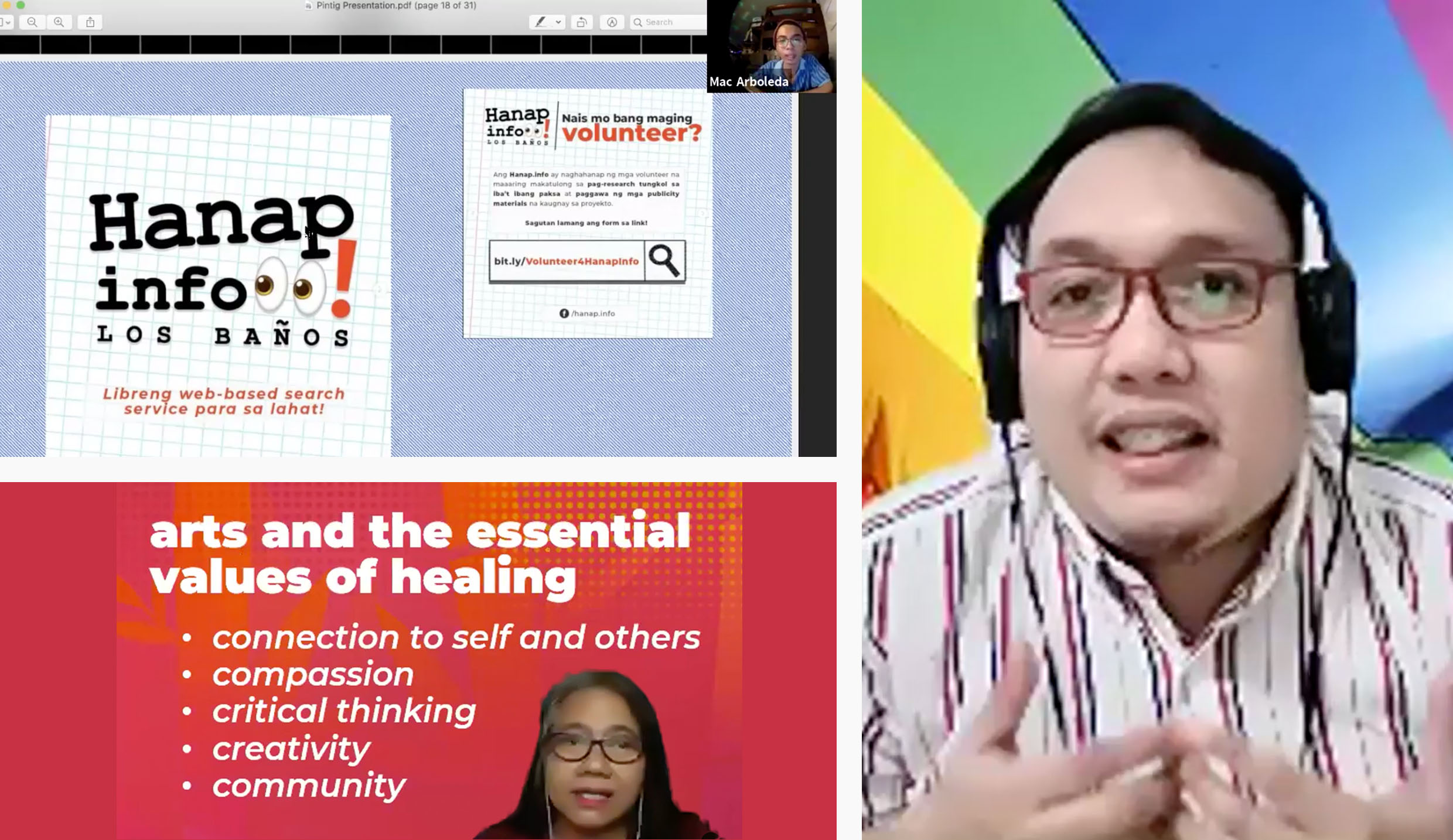 Pintig highlights online safe spaces and youth development through the arts
Pintig's final episode on. Nov. 26 delves further into tapping the youth's potential as builders of a better future during and after the pandemic.
Entitled "Rise Up: Living a Better Normal," the episode featured Abigail Billones, program director of the Lingap Sining Program of the Philippine Educational Theater Association (PETA), and Mac Andre Arboleda, president of the UP Internet Freedom Network.
Billones presented Lingap Sining's activities amidst the lockdown that carried on PETA's mission to develop performances, educate with the arts, and partner with communities. She said that Lingap Sining is especially concerned with working with communities at the ground level through youth organizations and schools to promote healing, compassion, critical thinking, creativity, and community engagement among the youth.
She said that since their activities could not be carried out normally due to the pandemic, Lingap Sining pivoted towards using online platforms, resulting in their first-ever online arts festival "Festival of Windows 2020: Locked but linked."
The event had four sub-festivals held from Sept. 19 to Dec. 10 that partnered with artists and communities to host online workshops, webinars, and performances.
"sulYAP Kabataan PLAYlist" featured online conferences and mini-workshops on theater education and theater making as well as performances from their partners in various cities and provinces.
"3G, Connect! Community Arts Festival" was anchored on the themes pinanggalingan (context of community), galing (talent and capacity of the youth and the community), and paggaling (healing) and featured community-contributed performances and talks from artists that explored the promotion of youth participation and community resiliency.
"START: A quest to find our safe space" focused on highlighting positive discipline and child safety and protection as part of PETA's campaign program "Advocate Right to Safety Zone for Children."
The culminating festival "KE-POP: Kalingangan Ensemble Performers Overcoming a Pandemic" is PETA's online streaming festival which showcased their most notable stage productions through a virtual platform.
The second discussion of Pintig's episode was led by Arboleda who spoke about the necessity of having a free and democratic internet to make the digital world a safe space for the youth.
Arboleda said that internet freedom constitutes having an open but secure internet that is accessible and empowering for all. This would mean that everyone should be able to participate in the digital space, access information, and express themselves freely without fearing for their security or safety.
He said that while the internet has allowed many people to access information and connect with people all over the world, it has also created a digital divide between those who can access and utilize it to address their needs and those who cannot.
He said that internet freedom is currently hindered by poor or lack of access to the internet due to poor infrastructure or lack of gadgets as seen during the recent shift to online classes, cybersurveillance, and data privacy issues wherein people's personal information may be compromised on the web, and censorship and attacks on press freedom which threatens to cut off the masses from sources of information or prevents the press from broadcasting to their audience.
The call for internet freedom is also challenged by deliberate disinformation, and the increasing commercialization of the internet and cybercrimes such as scams, sexual harassment, and cyberlibel.
To address these issues, Arboleda said that it is necessary to address the social issues present in the community since the two are connected. He also encouraged the participants to talk to their peers and families about these internet threats and to get information from organizations who are also advocating for internet freedom.
This last episode follows Pintig's discussions on self-care and grief, and youth participation in social change.
Pintig's first and second episode may be accessed on their Facebook page. (Jessa Jael S. Arana)