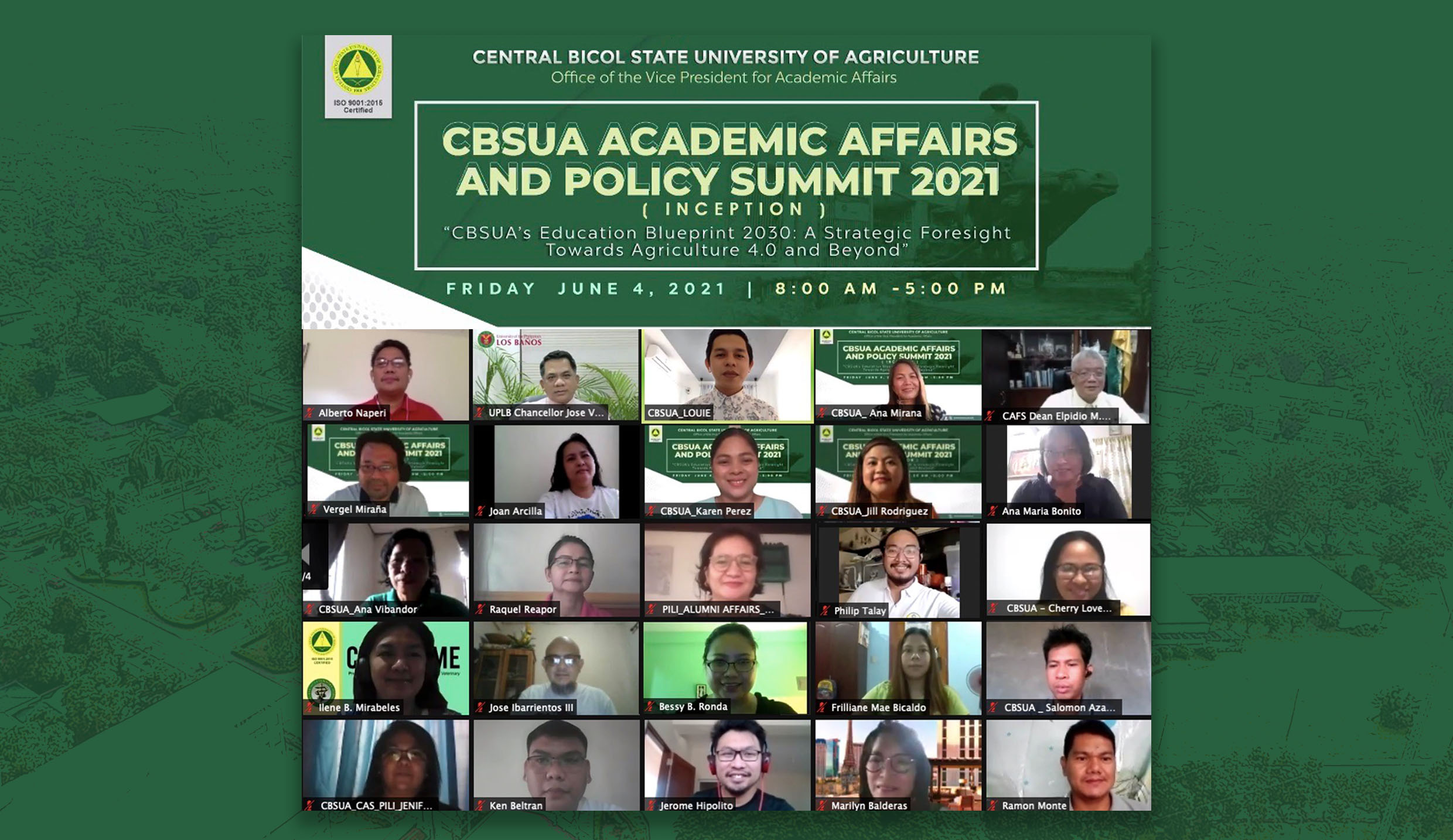 Chancellor Camacho shares insights about the future of HEIs
Higher education should strike a balance between technology-mediated and face-to-face learning and get the best from each of them.
This is the future that higher education institutions (HEI) face, said Chancellor Jose V. Camacho, Jr. in his talk before administrators and staff of the Central Bicol State University of Agriculture (CBSUA) during its Academic Affairs and Policy Summit on June 4.
The virtual event served as a venue for the Pili, Camarines Sur-based public university to start crafting its Education Blueprint 2030 as it aspires to become an agricultural research university of global standards.
"We need to come up with iterative activities to further redesign and rethink the way we deliver online, flexible learning now, and the mode of learning in the future," Chancellor Camacho explained.
"We need to identify which ones work well and which does not. That is the role of us, university administrators, in paving the way for the future of higher education," he continued.
Chancellor Camacho, a professor at the College of Economics and Management and former dean of the Graduate School, acknowledged the challenges and difficulties that the HEI faculty members and students have faced in the sudden shift to flexible remote learning last year due to the COVID-19 pandemic in 2020.
With the envisioned continuation of flexible learning in the country even after the pandemic – that would ideally combine face-to-face, remote, virtual, and online modalities where students would decide on when, where, and how they can best learn – he encouraged CBSUA to invest in information and communication technologies (ICTs), learning management systems, and advanced equipment through collaboration with various organizations.
But aside from these technology-driven actions, Chancellor Camacho stressed the need to maintain the human element in learning.
"As we intensify the new paradigms and technologies in instruction, we should remain incorporating the essence of critical thinking, ethics, and life-long learning," he stated.
"We look forward, in a post-pandemic world, to a higher education landscape where social interaction, empathy, compassion, and engagement flourish. It is through maintaining these very basics of human existence where our students become well-rounded individuals – durable and flexible to face the volatile, uncertain, complex, and ambiguous (VUCA) world," Chancellor Camacho maintained.
The whole-day summit also featured three resource persons from UPLB. They were Dr. Elpidio Agbisit, Jr., dean of the College of Agriculture and Food Science, who talked about Agriculture 4.0; Dr. Rowena Baconguis, dean of the College of Public Affairs and Development (CPAf), who discussed the competencies expected from professionals in the future; and Dr. Evelie Serrano, director of CPAf's Institute for Governance and Rural Development, who tackled ICTs for HEIs.
Completing the line-up of speakers was Dr. Tirso Ronquillo, president of the Philippine Association of State Universities and Colleges and of Batangas State University, who focused on academic governance in the times of artificial intelligence.
Dr. Alberto Neri, president of CBSUA, and other university officials, led the more than 100 summit participants from the state university.
In January 2021, UPLB-CPAf and CBSUA signed a Memorandum of Understanding for academic collaborations that include knowledge sharing activities. The two SUCs also entered into a Memorandum of Agreement for the offering of UPLB's graduate programs at CBSUA via off-campus mode.
In May 2021, Chancellor Camacho delivered a talk on the future direction of HEIs at the webinar of Cavite State University. (Mark Jayson E. Gloria)