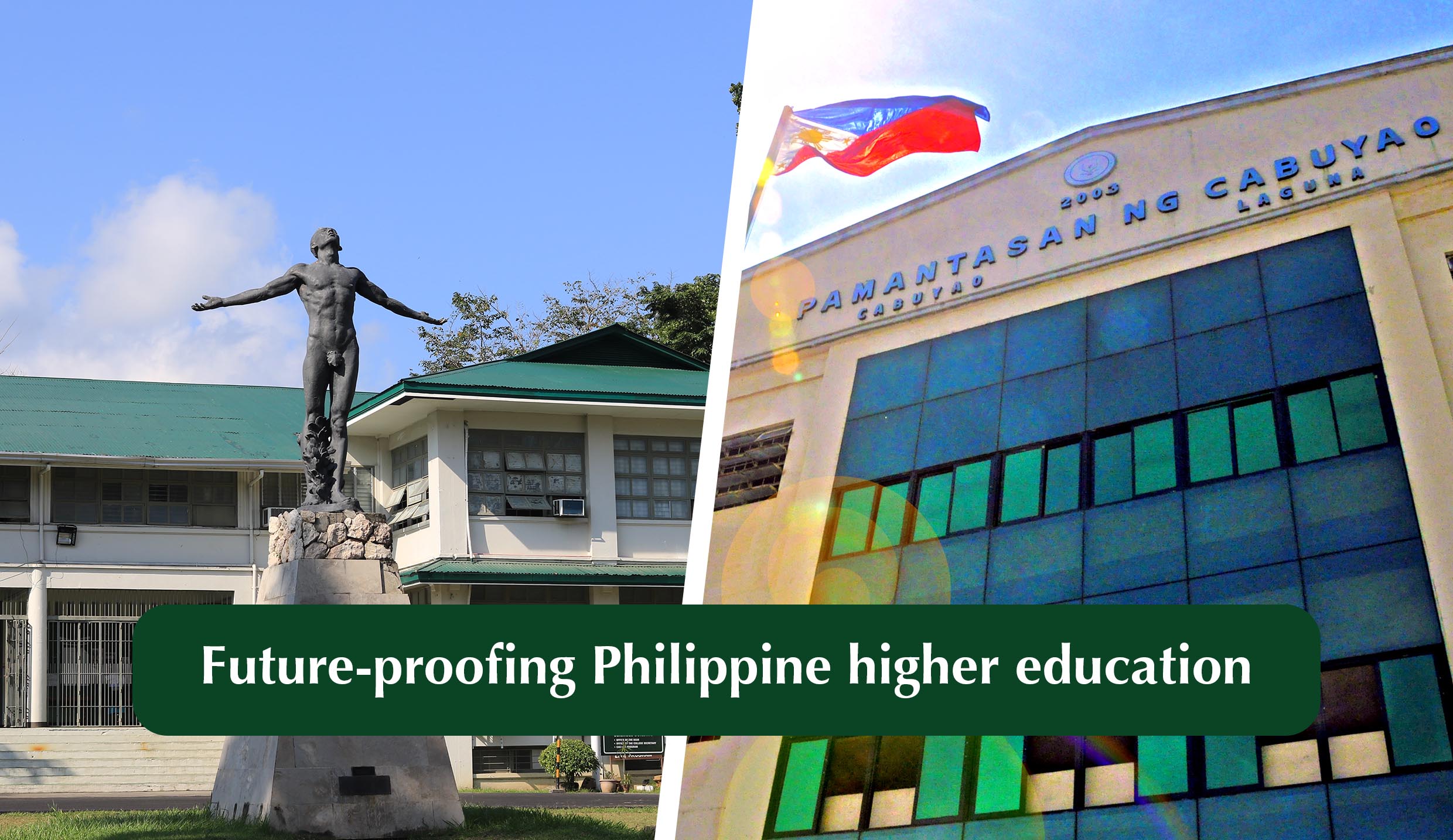 Chancellor Camacho highlights collabs in future-proofing HEIs
"As we embark into the future of higher education, collaboration is an essential element that will help us not only to survive, but to thrive amidst the new challenges and opportunities in tertiary education."
This was how Chancellor Jose V. Camacho, Jr. emphasized the importance of collaboration among higher education institutions (HEIs) as they prepare for the next normal during his talk at the International Education Summit of Pamantasan ng Cabuyao (PNC), Laguna on June 25.
In his presentation entitled "Future-proofing Philippine higher education," Chancellor Camacho suggested that HEIs can share best practices, ideas, and resources as they pursue flexible learning, which is said to be the next normal in tertiary education.
He cited PNC's virtual learning event as an example of the start of such collaboration. He also expressed his intent to formalize the partnership between UPLB and PNC to pursue more joint undertakings in the future.
Chancellor Camacho acknowledged the recent pronouncements that flexible learning is the way forward in higher education. In visualizing this scenario, he stressed the importance of getting the best of both technology-mediated learning and face-to-face learning.
"In future-proofing higher education, particularly in a post-pandemic world, it is important to prepare the students for a data science-led and digitally complex environment that would demand dexterity and computing skills," he said. "However, we have to be mindful about our dependence on information and communication technologies (ICTs) – we should not forget the importance of the human element in learning."
In striking the balance between the two, Chancellor Camacho identified the need to invest in ICT facilities, to gain the support of funding agencies and the local government unit (LGU), especially in the case of PNC which is a local university and college under the LGU of Cabuyao City.
At the same time, he also put forward the need to inculcate the importance of social interaction, empathy, engagement, critical thinking, ethics, and lifelong learning.
"We need to come up with iterative activities to further redesign and rethink the way we deliver online flexible learning now, and the mode of learning in the future. We need to identify which ones work well and which does not. That is the role of us, university administrators, in paving the way for the future of higher education," Chancellor Camacho concluded.
PNC's International Education Summit also featured two other speakers, namely: Dr. Jekuk Chang, president of Dongseo University in Korea, and Dr. Md. Sabur Khan, chairman of the Daffodil International University in Bangladesh.
Present during the virtual event were Dr. Albert Madrigal, university president of PNC, and Hon. Atty. Rommel Gecolea, mayor of Cabuyao City. More than 600 virtual participants joined the said activity.
Prior to speaking in this event, Chancellor Camacho also graced two similar knowledge sharing activities where he shared his knowledge and experiences in higher education, in Cavite State University's webinar in May and in Central Bicol State University of Agriculture's virtual summit in early June. (Mark Jayson E. Gloria)