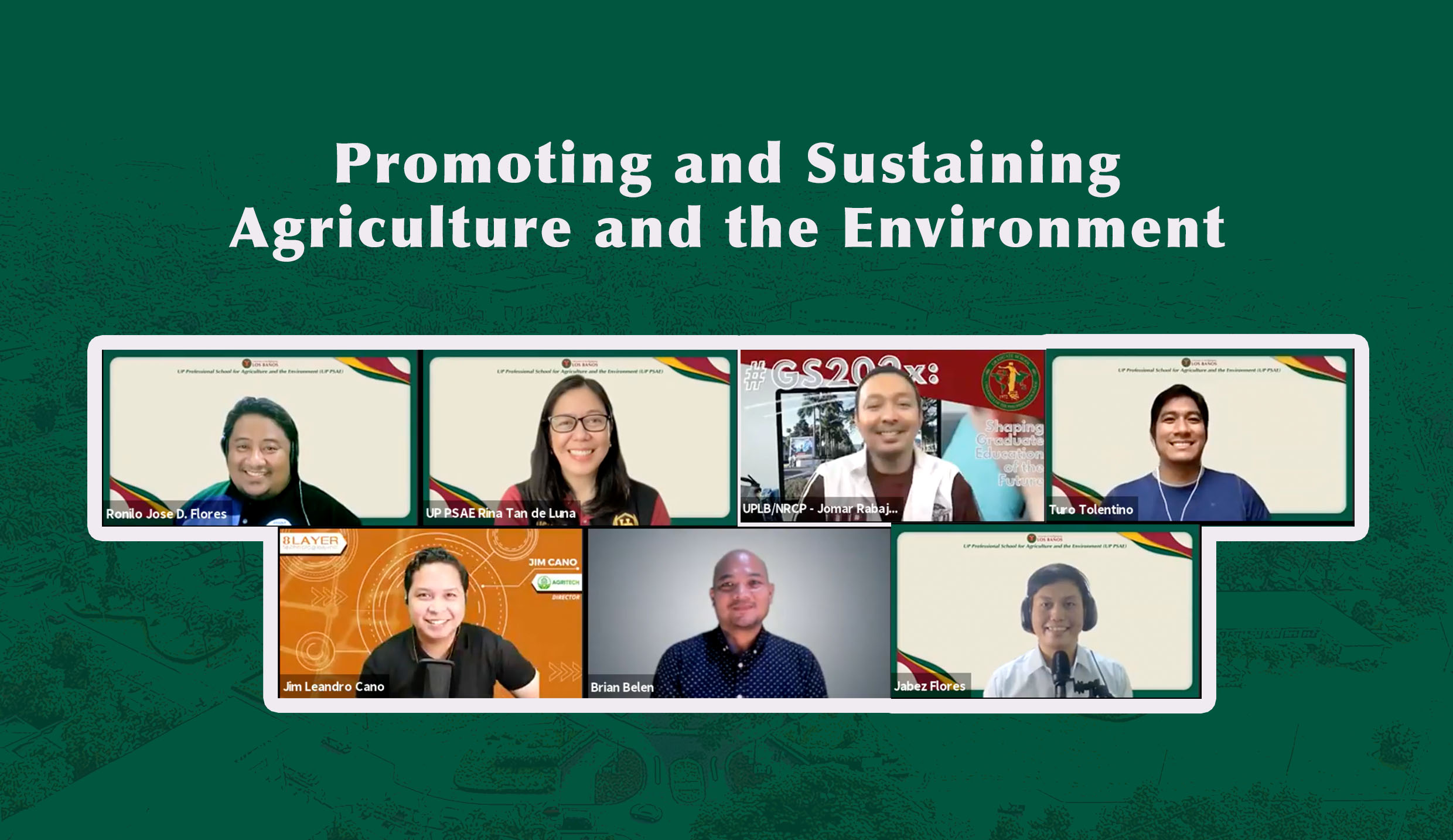 UP PSAE launches learning event series on agriculture and environment
The UP Professional School for Agriculture and the Environment (UP PSAE) conducted a series of online activities to highlight the need to promote and sustain both agriculture and the environment.
On Oct. 2, UP PSAE inaugurated its webinar series "Promoting and Sustaining Agriculture and the Environment " with the first session entitled, "Agri-Extension Services during a Pandemic." Around 300 participants took part in the webinar.
At the inauguration program, Chancellor Jose V. Camacho, Jr. gave an inspirational message in which he emphasized agricultural extension to be at the very core of UPLB's function and existence.
He invited the attendees to participate in future knowledge sharing opportunities of UP PSAE and expressed his hopes that bigger training courses on agriculture, environment, and development will take place in the future.
The webinar featured speakers who talked about their experiences in relation to agriculture and the environment.
Brian Amante Belen, an agriculturist, farmer-entrepreneur, and founder of ABF Integrated Farms and Agribusiness Center, Inc. shared to the audience his experiences and struggles with community extension services during a pandemic.
He discussed different concepts in agricultural extension such as the stakeholders and appropriate approaches and methods to employ in providing services.
He also emphasized the importance of educating the youth and developing their appreciation of the role of agriculture in society.
Dr. Jabez Joshua M. Flores, a lecturer in landscape ecology and statistics at the Faculty of Management and Development Studies and research assistant at the Faculty of Education, both at the UP Open University, talked about permaculture research in the Philippines and the United Nations Decade on Ecosystem Restoration from 2021 to 2030.
Dr. Flores highlighted the importance of preventing the degradation of our ecosystems. He discussed why permaculture matters, its implications to the ecosystem, as well as potential research directions and opportunities in the field.
Jim Leandro Cano, director of Agritech, 8Layer Technologies, Inc. and a board member of the Philippine Association of Agriculturists (PAA), Inc. and the Coalition for Agricultural Modernization in the Philippines (CAMP) discussed the digital solutions for agri-food systems post-COVID-19.
He mentioned that the pandemic was the perfect storm for the acceleration of digital economies. He explained the Agrig8 platform and how to move forward in the field of agriculture and extension amidst the ongoing challenges of COVID-19.
Turo Tolentino, Jr., co-founder of Artfarm Sustainable Solution and manager for sustainable livelihood of the Ayala Foundation, Inc., shared his expertise in sustainable agri-enterprise to the virtual audience. Tolentino talked about the product and service line of Artfarm.
He also talked about Harding BahayAnihan, a sustainable micro-scale food production system, which helps its stakeholders practice urban farming as a sustainable food relief.
UP PSAE Director Maria Catalina T. de Luna who is also the co-founder of the BINHI ng Pag-Unlad presented Hardin ni Nanay: A Women-led Grassroots Initiative in Laguna in Response to COVID-19.
Dr. de Luna and her team developed Hardin ni Nanay to help address food insecurity during the pandemic through organic farming in Banay-Banay, Cabuyao City, Laguna.
BINHI ng Pag-Unlad aims to promote good health through plant-based diet, provide a support system to, and empower women of underserved communities. Their initiatives helped women to learn about organic farming.
The webinar was also an opportune time for UP PSAE to invite participants to enroll in its off-campus programs for the second semester of AY 2021-2022 such as the Master of Science in Entomology, Master of Science in Environmental Science, and the Doctor of Philosophy in Environmental Science.
Earlier, UP PSAE had hosted an open house via virtual conferencing and Facebook live to provide an overview of the program offerings of UP PSAE, as well as, experiences from past students and scholars to inspire potential enrollees in graduate programs and training courses. Around 178 participants took part in the activity.
Those who missed the live streaming of the webinar and the open house can still view the events and more at the UP PSAE Official Facebook Page. (Joshua Michael G. Jonas)