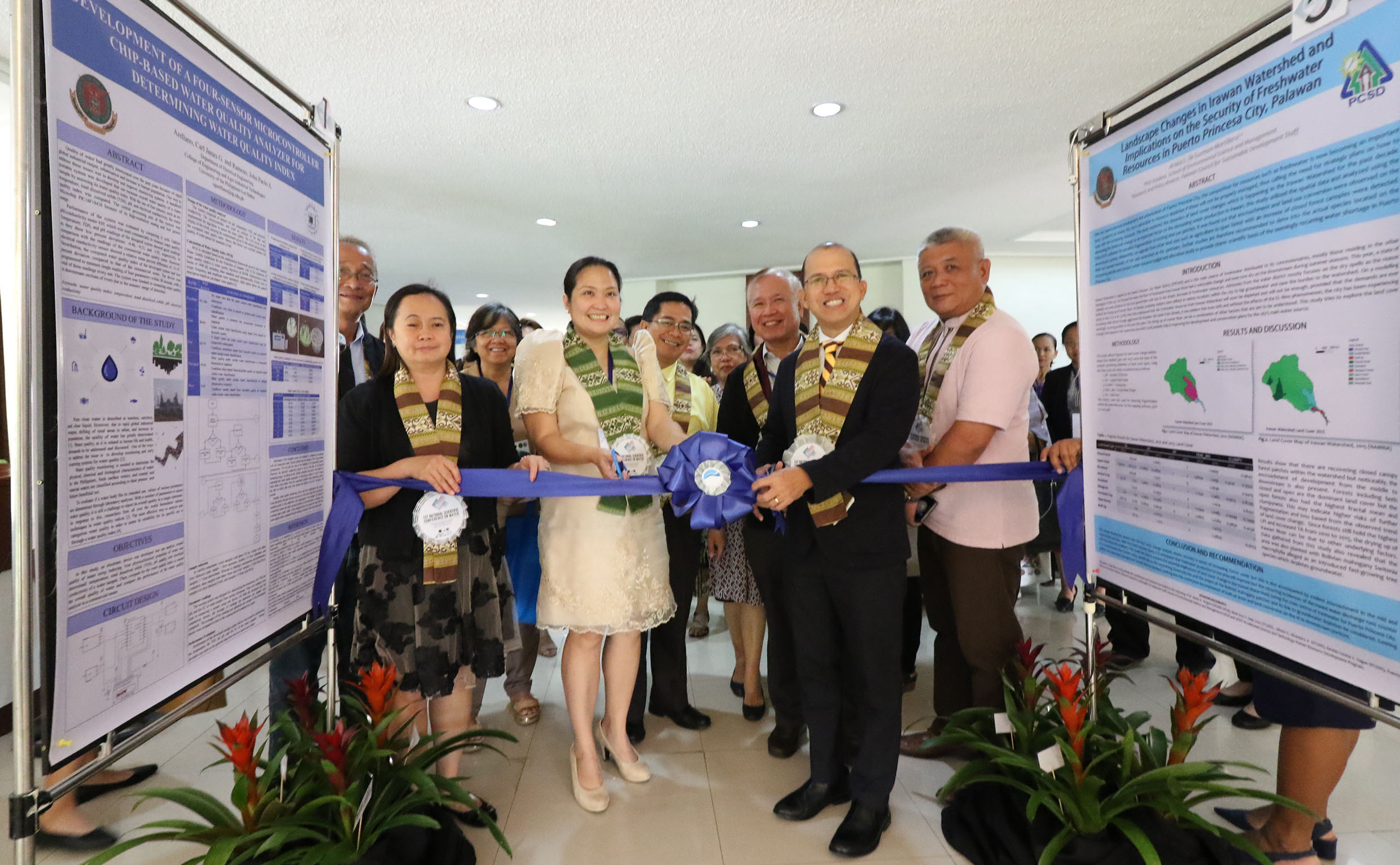 UPLB hosts nat'l water security conference
Recent ideas and technologies that could help achieve the urgent goal of water security were presented at the 1st National Scientific Conference on Water (WATCON 2019) on Nov. 7-9 at SEARCA headquarters, UPLB.
WATCON 2019 came at the end of the 5-part water forum series held earlier over the past few months, the various aspects of which were also the focus of the parallel sessions of WATCON.
These were watershed management, urban and rural water and clean water and sanitation, water-related disasters, water in agriculture, water governance, and economic valuation and pricing of water resources.
 "We started doing the water forum series to talk about [the research] that we have, to identify the gaps and to encourage collaboration [among] the various stakeholders," said Dr. Patricia Ann Sanchez, chair of the Interdisciplinary Studies Center on Water (Water Center), the main organizer of WATCON and the forum series.
"Now, through the national scientific conference, we are capturing the information from the scientific community," she added.
WATCON 2019's theme was "Integrated water resource management: harmonizing research, technology, and policy towards sustaining water security for all."
Dr. Sanchez said that the Water Center hopes to link with government agencies and other organizations working towards water security and use some of the outputs from the conference as an input for policymaking.
"For some technology-based issues and gaps, sometimes the answer can be found with the research community. It's only a matter of making them more aware," said Dr. Sanchez.
The conference featured plenary speakers from government, academe, private sector and industry who provided insights on the various dimensions of water security.
Engr. Maria Erlinda Pajarito of the Policy and Programs Division at the National Water Resources Board, discussed the state of water resources in the country and emphasized the importance of developing more water sources to help water-stressed areas, especially Regions III and IV-A.
She cited the "over allocation" of Angat Dam that supplies water for agricultural, domestic, industrial, and power-generation uses for most of Metro Manila and the surrounding areas and the dam's increased stress due to less rainfall.
Albert A. Samuela, marketing director of Nalco Water, introduced some solutions that they are implementing in the industrial sector to use water more efficiently, such as implementing an end-to-end approach to water management and using technologies that would allow water to be re-used as many times as possible before being discarded.
Dr. Rodel D. Lasco, country coordinator of the World Agroforestry Centre-Philippines, presented the projections on the effects of rising sea levels in the country amidst climate change, while Dr. Arlene B. Inoncencio, professor at the School of Economics at De La Salle University, showed how farmers can become partners in water and ecosystems management if they can secure their needs in farm production.
Gracing the opening program was Chancellor Fernando C. Sanchez, Jr. who emphasized the importance of creating better innovations and thinking with new mindsets in order to address the complexity of sustainable water security.
"At the end of this conference, I trust that we can forge more partnerships, conduct better researches, draft more responsive and inclusive policies, and implement more appropriate programs of action," he added.
Among those present during WATCON 2019 were Sen. Cynthia Villar, chair of the Senate's Committee on Agriculture and Food and Committee on Environment and Natural Resources; Dr. Ramon A. Razal, president of the National Research Council of the Philippines; and Dr. Glenn Gregorio, director of SEARCA. Dr. Razal and Dr. Gregorio are professors at UPLB.
A total of 13 posters and 42 research papers were presented at the conference, one and seven from each category, respectively, were selected to be evaluated for publishing in the special issue of the Journal of Environmental Science and Management (JESAM), a Web of Science and Scopus-indexed journal based at the UPLB School of Environmental Science and Management (SESAM).
Dr. Rico Ancog, JESAM's managing editor and a faculty member at SESAM, said that the chosen researches will undergo screening by JESAM's international editorial board members to determine if they merit publication.
WATCON 2019 was held in partnership with SEARCA, Conservation International Philippines, UPLB Foundation Inc., Philippine Council for Agriculture, Aquatic and Natural Resources Research and Development, Department of Tourism-Region IV-A, BP Integrated Technologies, Inc., Nalco Water, and the Office of the City Tourism Officer of San Pablo, Laguna. (Jessa Jael S. Arana)